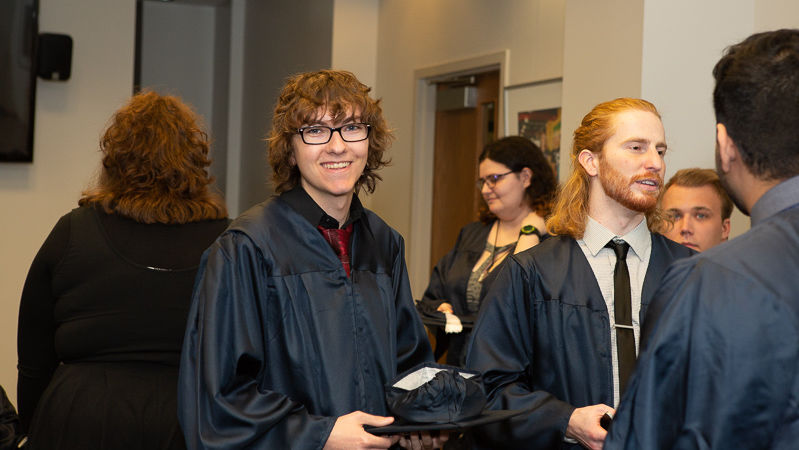 MONACA, Pa. — Information Sciences and Technology Instructor Ashu Kumar has a mantra that he tries to instill in his students: Clarity. Confidence. Commitment.
If it's true — as Kumar says — that these qualities, when taken in equal measure, are the recipe for success, then the IST students at Penn State Beaver are killing it.
Eight IST students have high-profile internships lined up for the summer and three students set to graduate on May 4 already have jobs.
Evan McStay, Garett Schefler and Matt Welch are all headed to FedEx in June.
Kumar is not surprised.
"These three had all three qualities," he said. "They were clear in what they wanted to achieve, they had the confidence to try it, and they were top performers in my class."
For Welch, this is the second time through pomp, circumstance and job search. He has a telecommunications degree from Penn State but, two years ago, decided to return to Beaver for an IST degree in order to make himself more marketable.
"I think it was the right move," Welch said. "So far it's paying off."
Welch and McStay both interviewed for full-time positions during the last week of their internships at FedEx last summer. They knew before beginning the fall semester that they had jobs waiting for them.
"It made senior year a lot easier," McStay said.
The internship at FedEx was one of three projects McStay took on outside the classroom last year. He also worked with Assistant Professor Richard Lomotey to develop an app that helps farmers diagnose and cure disease in crops and assisted Kumar in launching a voice-enabled classroom assistant built on the Amazon Echo.
The internship came with a paycheck and the app development came with a grant. But helping Kumar? McStay did that for nothing.
"It shows he's really passionate," Kumar said.
So passionate that McStay has his own mantra for his fellow IST students: Know yourself.
"Know what you're able to provide and confident doing," he said.
Sounds like a mantra Kumar can get behind.
The following is a sampling of the internships IST majors have secured this summer:
Austin Koman, Mitsubishi Electric Power Product
Joseph Pry, Software Engineering Institute, Carnegie Mellon University
Jordan Seacord, Software Engineering Institute, Carnegie Mellon University
Adam Woodcock, Accenture
Griffen Lake, Heritage Valley Health Systems
Erica Clark, Heritage Valley Health Systems
Amiben Bhagat, Duquesne Light Company
Corey Price, GNC