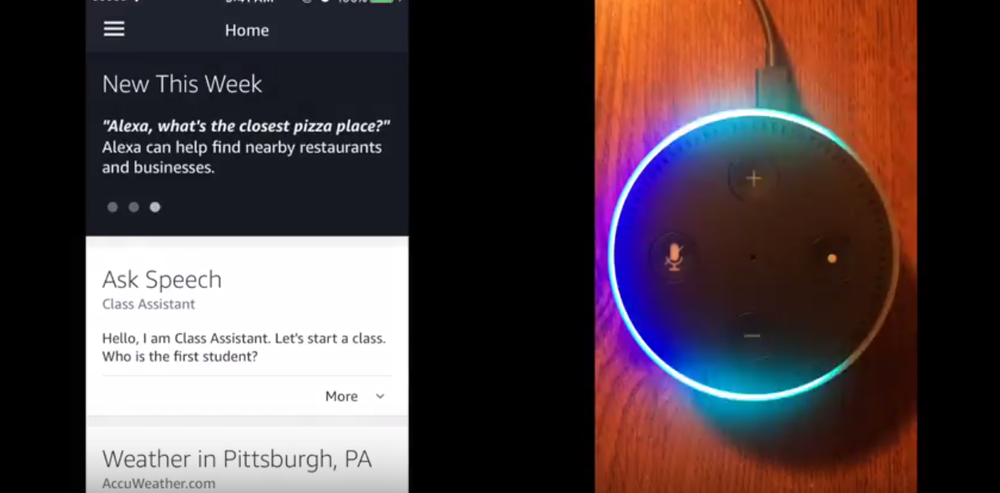 MONACA, Pa. — Professor: Alexa, can you tell me who attended class today?
Alexa: Yes.
Last spring, Penn State Beaver Information Sciences and Technology Instructor Ashu Kumar imagined the device of professors' dreams — a voice-enabled classroom assistant built on the Amazon Echo that could perform the menial work of taking attendance and keeping track of participation points.
He entered the idea in the University's Teaching and Learning with Technology 2017 Open Innovation Challenge, a contest designed to find the most innovative proposals for enhancing teaching and learning in higher education.
Kumar was one of five finalists given five minutes to pitch his idea to attendees of the annual TLT Symposium, and those attendees voted for the idea they wanted to see move forward. His voice-enabled classroom assistant lost to a University Park professor's plan to use artificial intelligence and computer emotion detection to measure student engagement in lectures.
But Kumar, Beaver's entrepreneurship and innovation minor program coordinator, isn't the kind to give up on a great idea. So he spent part of his summer creating and perfecting his device with information sciences and technology students Evan McStay and Sumanth Sriramoju.
Their results are highlighted in a four-and-a-half-minute YouTube video where McStay convenes an imaginary class and "Alexa" records attendance and awards points. There's still work to be done before the device can be used in an actual class setting, including improving the interface, making it quicker to respond and adding more capabilities.
"Once refined, the class assistant can help professors keep track of class participation and activities and grading students in class in real time," Kumar said.
The idea is just the latest in a long line of them for Kumar. He's an entrepreneur by nature and has been working to foster a spirit of innovation among Penn State Beaver students. Last year, he spearheaded the Lion's Den, a student idea competition modeled on "Shark Tank," and this year he's developing a system for connecting creative and talented Beaver students with local industries who could use their expertise.
For more information on the information sciences and technology program, visit the major webpage.
For more information on the entrepreneurship and innovation program, visit the minor webpage.