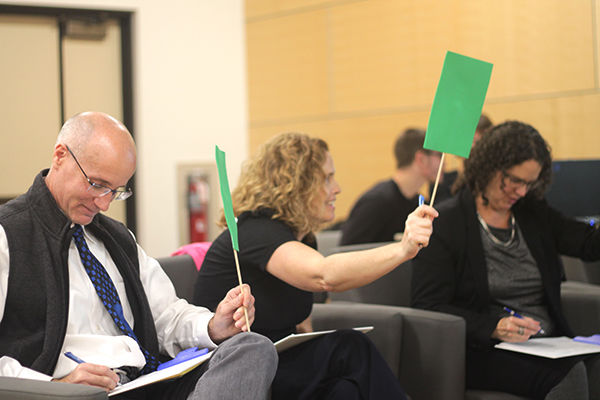 Don't complain.
Pitch the change.
And that is exactly what the students of Penn State Beaver did at the Lion's Den competition on Nov. 9.
For the third year in a row, students were invited to improve the campus life and learning experience at Penn State Beaver.
"Students get to show their voices in front of decision makers," said Ashu Kumar, Lion's Den coordinator and instructor in information sciences and technology.
"Lion's Den, which is sponsored by the Beaver Valley LaunchBox, is about encouraging students to take a problem-solving approach and come up with fresh ideas," Kumar said.
This year's event had a larger turnout that the past two years of the competition. "Students are beginning to realize that they can make a change," Kumar said.
Ten student groups presented their ideas to a panel of judges that included Chancellor Jenifer Cushman and other faculty and staff members. With an influx of great ideas this year, it was difficult for the judges to pick just one idea to implement.
Several ideas were decided to be worthy of implementation, while several others were put on a list to be looked into further before approving or denying.
The top ideas that the campus plans to implement are:
Creating a new project room in the library for student collaboration.
Making campus umbrellas available at the entrances of all buildings.
Installing shades on the windows in the Brodhead Bistro.
EZ Pass in campus vehicles
Other ideas that are being researched:
Daily campus activities calendar app
Stairs to softball field
Zoom room in Harmony Hall
Secuirty and maintenance feedback app
App-based security access to buildings
Parking lot cameras and sensors
Senior Cody Campbell said this year's competition had a lot of great ideas.
"Honestly, I would love to see any of these ideas be established," he said. "(Many are) simple ideas that you wouldn't think would be that big of an issue. It just goes to show that nobody knows the campus better than the students."
Contact
Ashu Kumar
Instructor, Information Sciences and Technology