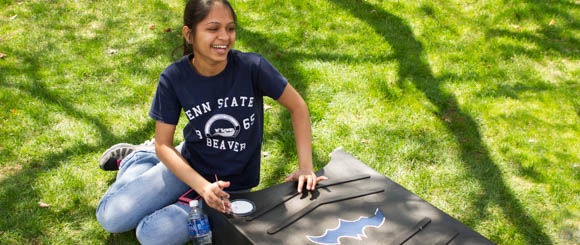 MONACA, Pa. — When Ruhi Patel was a child, she used to make regular treks from her boarding school to her aunt's nearby dental office. While her aunt tended to patients, Patel quietly completed her homework.
And that's when she decided that she would become a dentist, too. It wasn't the title or the money or the flexible working hours that tempted her — though she appreciates all of those things now — it was the simple knowledge that her aunt was helping people; that dentists help people.
Today, Patel, a former Penn State Beaver student, University Park graduate, and first-year dental student at Case Western Reserve University, has more sophisticated language to describe the kind of help dentists provide, and an appreciation for the path she traveled to get to dental school.
"I realize now how important oral health is," Patel said. "It is very related to your systemic health. Without oral health you don't have good health."
And studying biology as an undergraduate gave her the foundation she needed to understand systemic health and build toward her ultimate career goal.
The thing is, she didn't enter college wanting to study biology. In fact, she didn't even like biology. She was a chemistry major.
But after a year in Associate Professor Cassandra Miller-Butterworth's biology class, Patel was hooked. Gone was the rote memorization her teachers had preached in middle and high school. In Miller-Butterworth's class, biology crackled to life. Miller-Butterworth didn't want to students to memorize, she wanted them to understand and remember, so she explained concepts in colorful and visual ways.
"She used pipe cleaners to explain how chromosomes separate during cell division," Patel said. "Pipe cleaners — that's something you're going to remember. And if the basic concepts stick with you, you're going to be able to understand the more complex concepts later."
But a strong academic foundation isn't the only thing Patel built at Beaver. She also quickly learned that a full college experience requires participation. Patel chose Beaver, in part, because it was small and close to home. That was a plus for someone looking for a personalized college experience. But it also was an opportunity for growth.
"I never thought of myself as a leader," Patel said. "Socializing was not part of my comfort zone. But then I started getting involved in (student organizations) and started attending leadership conferences. I joined Lion Ambassadors and was the president of RHAC (Resident Hall Advisory Council). I was less intimidated."
It's a skill that's serving her well in her first weeks at Case Western, where she's already joined clubs and taken on leadership roles, and it's something she expects will continue to be an asset in the future.
"As a dentist, you need to be able to lead your patients," Patel said. "It's up to you to guide them to better oral health."
Patel doesn't know precisely what she'll do after dental school — graduation is still years away and there are a lot of choices for specialization — but she's certain she'll run her own office and develop lasting relationships with her patients.
After all, it's relationships that first drew her to dentistry, that led her to choose Penn State Beaver, and that keep her connected to the campus. Patel is in frequent contact with Miller-Butterworth and Assistant Teaching Professor of Biology Stephanie Cabarcas-Petroski.
Cabarcas-Petroski has no doubt that Patel's dream of dentistry and future reality are going to be a match.
"Ruhi was and is the type of student that will succeed in any field she chooses to pursue. She has incredible work ethic and dedication to her studies," Cabarcas-Petroski said. "From the moment I met Ruhi, she said she wanted to go to dental school, and it seemed like she was always preparing for it, even as a first-semester sophomore. When she started applying for dental school, I knew that she wouldn't have an issue getting accepted; she would have an issue deciding where to go."
In fact, Patel got into three of her top choices and chose Case Western because, upon visiting, she felt that same inviting atmosphere that first drew her to Beaver.
"The best thing about Beaver was the one-on-one with faculty and the strong relationships," Patel said. "If that's the experience you want, you will get it at Beaver."
Students can now finish the biology degree at Penn State Beaver. To learn more, visit the biology webpage.