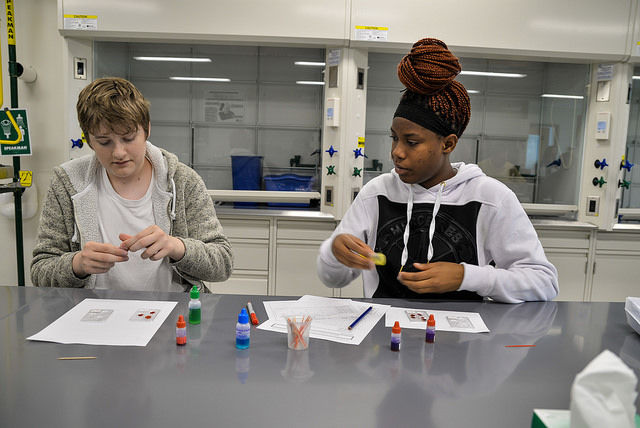 MONACA, Pa. — "What determines your blood type?" Penn State Beaver Associate Professor of Biology Cassandra Miller-Butterworth asked a group of students gathered in her laboratory.
A few hands went in the air.
"Your parents," one student correctly answered.
The handful of Pennsylvania Cyber Charter School students, parents and staff were on the Beaver campus to learn about blood with Miller-Butterworth and Assistant Teaching Professor of Biology Stephanie Petroski during a Sept. 27 lab day.
The group participated in a blood-typing experiment after getting a scientific overview on the ABO blood-typing system, antigens and agglutination — the reaction to antibodies and their corresponding antigens mixing and forming visible clumps.
Organized by PA Cyber physics teacher Erin Butler, the hands-on lab allowed students to take four unknown simulated blood samples and work with a partner to figure out their blood type — A, AB, B or O.
"I thought it was really neat, to be able to test it right there physically and be able to see the reactions — that was neat," said Shelley Geiger, of Pittsburgh, who brought her daughters, Trinity, a 10th-grader, and Bella, a third-grader.
Students learned that knowing one's blood type is important. People with the O type blood are universal donors, because O type does not contain antigens. People with AB-positive, on the other hand, are universal recipients.
Every 120 days, Petroski told the group, all the red blood cells in the body will replenish, making blood donation possible.
Tara Dubinsky attended with her daughter Lily Lehnhardt.
"I had a blast," Dubinsky said. "I thought both the doctors that did the presentation did very well. It was challenging enough, yet it was simple enough that we got to enjoy it. I learned a few things."
"The lab was really nice," said Lehnhardt, 14, a ninth-grader who enjoys science and is leaning toward a future career in the subject. "The idea of the lab helped push that a little bit."
Miller-Butterworth and Petroski often participate in middle and high school STEM programs to encourage students like Lehnhardt to nurture an interest in science and to help disseminate important scientific information and advances.
"Children are really key in spreading information," Miller-Butterworth said. "They come home and teach their parents and siblings about it, and it has a ripple effect."
"My favorite part of the day was watching the students and parents doing the blood typing — seeing something firsthand, making observations of agglutination, deciding blood type from those observations, and even making some mistakes was an excellent experience for all," Butler said. "Our experience at Penn State Beaver completely exceeded my expectations."
In addition to the lab and instruction, Penn State provided a campus tour, University swag, and lunch for the students.
Students attending the lab ranged from eighth-graders to 12th-graders with interests that include nursing, forensics, neuroscience and accounting.
"These science outings offer our students a great opportunity to see a live lab, visit different campuses, and also to make connections with colleges and universities to determine what they want to do after high school," PA Cyber CEO Brian Hayden said. "In the future, we intend to offer these all over Pennsylvania, partnering with other colleges and universities."
Editor's Note: This article was written in conjunction with the PA Cyber School and first appeared on the school's website.
Contact
April Johnston
Public Relations Director, Penn State Beaver