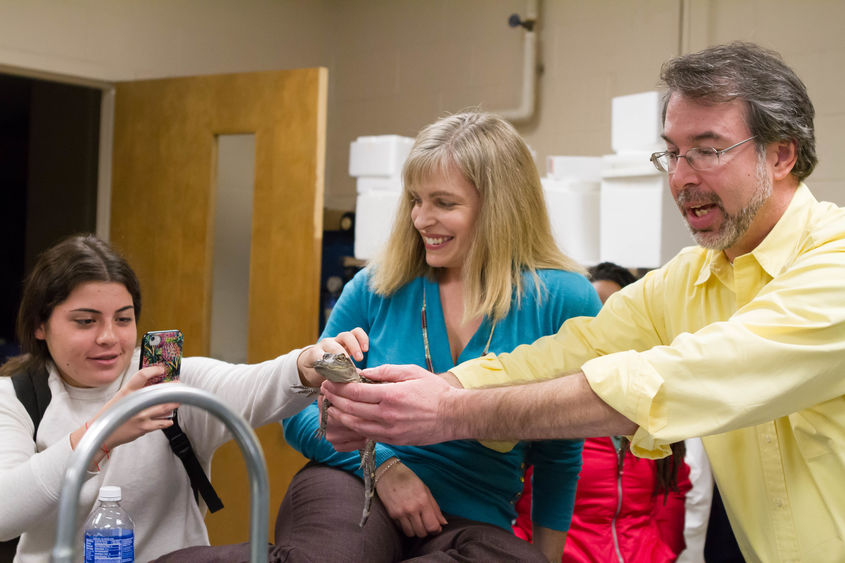 MONACA, Pa. — Tom Kelly pulls a Tupperware container out of his bag and glances at the 20 students gathered in a semicircle around him.

"Can I have a volunteer?"

Jennifer Pierce's hand punches into the air.

"Do you know what you're volunteering for?" Kelly asks. "I want you to reach in here and pull out a roach."

The other students groan, but Pierce, a sophomore biology major at Penn State Beaver, is undeterred. She likes insects. She gamely reaches into the Tupperware and pulls out a fidgeting brown bug. It is now her job to feed it to the sandy-scaled bearded dragon resting in Kelly's hand.

Only the bearded dragon isn't hungry. He's used to arid, subtropical temperatures, and the Laboratory Classroom Building is set just north of 70 degrees — too cool for a good meal.

Kelly shrugs. "Sorry," he says, and points to the roach. "But you can take that home with you if you want."

Assistant Professor of Biology Cassandra Miller-Butterworth, who has stationed herself just outside the circle of students, chuckles and raises her smartphone into the air to snap a photo of Pierce. This is just what she hoped for when she invited Kelly, a reptile expert from Brookline, Pennsylvania, to her Biology 110 class in November.

For weeks she'd been lecturing her class on a range of scientific concepts like evolution, sexual selection and competition for resources. She's been teaching long enough to know that, for many students, grasping those concepts is a lot easier when you have a living example — and not a textbook — in front of you.

"It's amazing to watch when students have a hands-on experience like this," Miller-Butterworth said.

She is one of the many professors on the Beaver campus who make a habit of bringing the community into the classroom. It's an age-old practice relied on by teachers from elementary school through graduate school because it works. It not only gives students a chance to see lectures and lessons come to life, but it also allows them to connect with the vast community that exists beyond the classroom.

"To put it simply," Todd DePastino said. "They make it real."

DePastino is a history lecturer at the Beaver campus, and director of the Pittsburgh-based Veterans Breakfast Club, who routinely invites former soldiers and marines to speak to his class, History 173: Vietnam in War and Peace.

The annual guest speaker is both a practical and tactical decision on DePastino's part. He wants to offer the class perspective on the war and the country, but he also wants his students — many of whom are from Beaver County — to recognize the immense toll the war took on their own community.

Because many young men in western Pennsylvania — and Beaver County, in particular — headed straight for the steel mills after high school, they did not qualify for college deferments. That made for an unusual concentration of Vietnam veterans in the area. Many of DePastino's students, therefore, know someone who served, but don't know much of anything about their experiences, either because they've never asked or the veteran hasn't felt comfortable talking about it.

DePastino's class changes all of that.

Last fall, his guest was John Barber, who lives in Hopewell Township and who has a bit of experience telling his story. He's visited middle school classrooms and penned a book. But walking into a college classroom felt different. After all, these kids were the same age he was when he landed in the jungle.

"How honest can I be?" he asked.

"They're adults," DePastino answered.

And so Barber talked of the mud that caked boots, the rain that never stopped, the cat-sized rats that scurried into bunkers and tried to steal c-rations, the day he had to hold a fellow Marine around the stomach to keep his intestines from falling out and the many, many times he nearly died.

Eddie Emes, a senior communications major, was transfixed. He has grandfathers and uncles who served in war, and DePastino had lectured about it for weeks, but no one had ever talked about it with such naked honesty.

"Normally in class, you talk and you take a test," Emes said. "When John came in, he talked and I felt like 'Wow, this actually happened. Not only did it happen, but he was right in the middle of it.'"

Just as DePastino had planned.

"It's always an eye-opening experience for the students," he said.

So whether students are chuckling as Kelly places a crested gecko on Miller-Butterworth's head or they're lining up to shake Barber's hand at the end of class — both of which happened — you can bet they're taking more than notes away with them.
Contact
April Johnston
Public Relations Director, Penn State Beaver