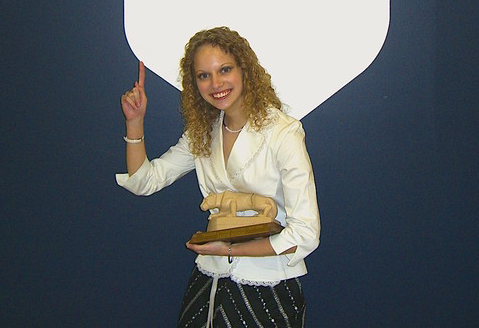 MONACA, Pa. — Most 20-somethings don't get invited to sit on the board of a nonprofit organization that has been operating longer than they've been alive. Even fewer get elected to lead the board.
But Jamie Silicki isn't most people.
She's the high school student who racked up multiple college credits before receiving her diploma. She's the college student who showed up to student worker interviews wearing a suit and carrying her resume. She's the newly minted professional, who acquired new titles and responsibilities within a year of being hired.
And now, she's the board president of Crisis Center North, a Pittsburgh-based nonprofit organization assisting victims of domestic violence.
It's not at all surprising to John Chapin, the communications professor who hired Silicki as his research assistant at Penn State Beaver and first introduced her to the work of Crisis Center North. Chapin is married to Grace Coleman, CCN's executive director.
"Usually, with student researchers, you have to go over their work and correct their errors," Chapin said. "In 18 years, I've had two students who have found my errors; Jamie was one of them."
During her time as his assistant, Silicki immersed herself in Chapin's research, wading into the world of K-12 public schools to study the effects of bullying and dating violence — issues that can alter a child's existence — and learning about the many iterations of domestic violence, including sexual, emotional, psychological and economic. She presented some of their resulting work at an Association for Education in Journalism and Mass Communication meeting in Pittsburgh and at an undergraduate research fair at Beaver, which she won.
"The experience was an eye-opener for me," Silicki said.
She had never before looked at the person ringing up her bill at lunch or the student slumping into a desk in the back of class and considered that they could be victims of domestic violence. But after working with Chapin and Coleman, she began to consider what strangers could be enduring.
"You never know what the people around you are going through," she said.
It's what inspired her to train as a volunteer for CCN, turning her newfound empathy into action.
But soon the trappings of a professional life (she was hired by the Art Institute of Pittsburgh before she'd even graduated from Beaver) pulled her away from her volunteering efforts. Though she lost her physical connection to CCN, she never lost her emotional connection to the cause. So when Coleman suggested in 2014 that Silicki join the CCN board, Silicki eagerly agreed.
In her first year on the board, she served as secretary. In this, her second year on the board, she's the president. It's a quick ascent to the top, but Chapin believes Silicki will be a success.
"Whatever she knows she can't do, she finds the resources to learn how to do," Chapin said. "That's what's going to make her a really good board president."
Silicki sees the board as the wheels of the organization and the president as its driver. So she hopes her reign will bring increased awareness of domestic violence in the Pittsburgh region and a feeling that the community is in the fight together.
"It's not just the victim's problem; it's everybody's problem," she said.
Contact
April Johnston
Public Relations Director, Penn State Beaver