'They saw something in me that ... I didn't'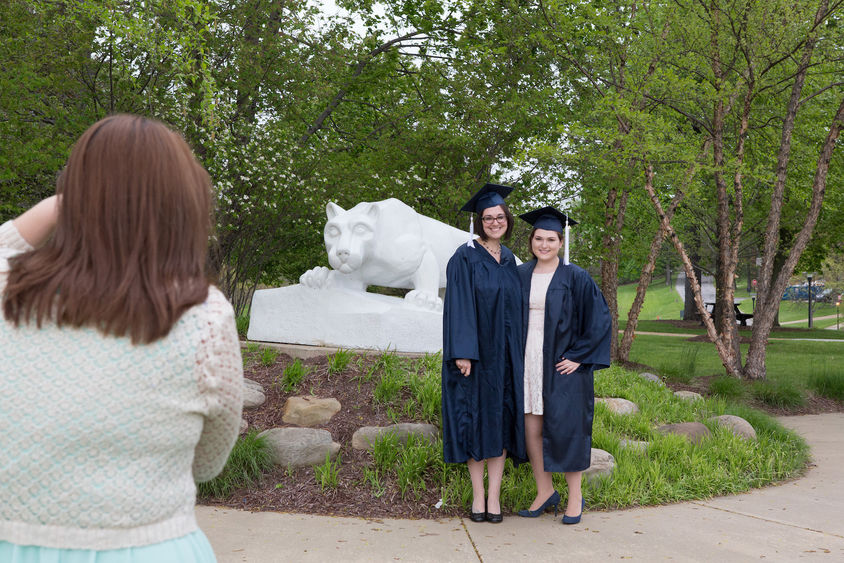 MONACA, Pa. — A lot of people are nice, smile-your-way, hold-the-door-for-you kind of nice.
Then there are those who are really nice, invite-you-over-for-cookies, rescue-you-in-a-snowstorm, let-you-store-boxes-in-their-garage-over-the-summer kind of nice.
And those are the people who can make a big difference in the life of a first-generation college student, win-a-University-College-academic-award, get-into-the-graduate-program-of-your-choice kind of difference.
"They saw something in me that, at the time, I didn't," Jessica Findling said of the faculty and staff at Penn State Beaver. "When I thought I couldn't take on anything else, I did."
Findling, who graduated in May, decided to attend the campus on the spot during a visit in September of her senior year. At the time, it seemed safe. Penn State was a familiar name and her tour guide that evening had graduated from her high school, Fort Cherry.
"He was really excited about the campus, which made me really excited," Findling said. "I could picture myself at Beaver. It gave the college feel, but it wasn't overwhelming; it was far enough away from home that I felt independent without being really far away."
But it wasn't until she began working for the Office of Residence Life that her choice appeared prescient.
"I had a really negative self-perception about what I could and could not accomplish," Findling said. "They allowed me to build myself up."
Over her four years at the Beaver campus, Findling served as a resident assistant, worked at the Center for Academic Achievement, and headed the Psychology Club. And, maybe most significantly, created a school family away from her biological family.
Associate Director of Student Affairs Amy Gartley kept Findling on a path when she felt as if she were veering in the wrong direction. Staff Assistant Jill Bender became Findling's "Penn State mom" (Bender might still be storing a few of Findling's boxes in her garage). And Learning Center and Disability Services Coordinator Jill Tress sparked Findling's desire to work with young adults with autism.
As Findling neared her senior year and dealt with the stress of finding a graduate program — a must in the psychology field — the same trio of women, along with Financial Aid Coordinator Gail Gray, helped Findling to navigate entrance exams, applications and financial aid packages.
Though Findling was accepted by a number of schools, Robert Morris University offered her a full-time position in the president's office that covered her entire tuition. She took it.
She's now one of eight students in the university's inaugural class and works alongside RMU's executive staff. The formal office setting has forced her to think in complex ways that she once felt were outside of her wheelhouse.
"It's rewarding to be challenged every day and ask myself, 'What can I do to be better?'" she said.
And she believes, without Penn State Beaver, none of it would have been possible.
"I wouldn't have had this kind of offer (the assistantship) If I'd gone to another school," she said.
"Some people have the idea that there are things you can't do at Penn State Beaver. But you can have absolutely everything you want out of a college experience there. All of my friends are incredibly successful. If you surround yourself with good people, good things will happen."
Contact
April Johnston
Public Relations Director, Penn State Beaver