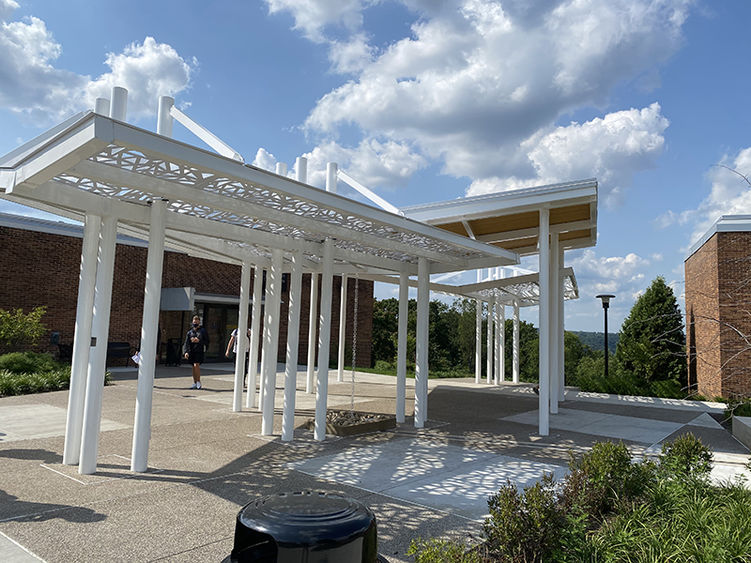 MONACA, Pa. — Students, faculty and staff on campus have likely noticed some changes to the Penn State Beaver campus beyond things like face masks and reconfigured classrooms.
Tents and a new pavilion are providing additional outdoor space for classes and places for students to hang out.
Temporary tents in the center of campus are available for professors to reserve for outdoor classroom space. And when classes aren't in session students can gather — socially distanced, of course — under the them.
"Our faculty have spent the summer creatively figuring out how to create engaging and safe teaching environments," Director of Academic Affairs Carey McDougall said. "It's a natural solution for our biology faculty to hold classes in our tents outside in that the classes explore the natural world. Autumn Sabo hopes to hold her classes under the tents throughout the semester even if everyone is in winter parkas!"
The tents will remain in place until the Thanksgiving break.
Another new, permanent structure on campus is the Donna Kuga Pavilion. The pavilion, located near the Laboratory Classroom Building, has been established in honor of the late Donna Kuga who was a long-time and beloved member of the Penn State Beaver campus as a student, coach, professor, athletic director, director of academic affairs and interim chancellor.
A formal dedication of the pavilion is being planned.
Like the tents, the pavilion is available for outdoor classroom use, student events or a place to relax or study.
Student organizations who want to reserve these spaces should work with Student Activities Coordinator Romina Holder through email at [email protected] to schedule the areas for sponsored activities.