University President Neeli Bendapudi reaffirms support for Commonwealth Campuses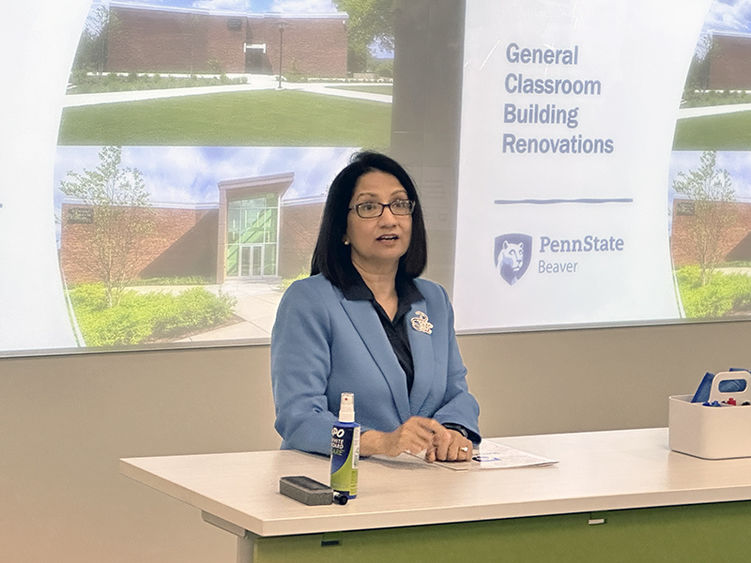 MONACA, Pa. — Penn State President Neeli Bendapudi and other University leadership visited Penn State Beaver Wednesday, Aug. 30, to celebrate the reopening of the General Classroom Building (GCB), which has undergone a complete renovation.
The $8.4 million overhaul of the GCB is the first significant upgrade to the building since it was built in 1968. The two-story building houses classrooms, including amphitheater-style lecture halls, conference rooms, collaborative spaces and offices. In addition to aesthetic improvements, there is now state-of-the art technology, more common-area space, an outdoor courtyard and improved accessibility in the building.
"Why these buildings are important is two-fold. Education is not about a pail to be filled; it's a fire to be lit," Bendapudi said, paraphrasing W.B. Yates. "It's not just coming in here, 'We have stuff we teach you. We are the sage on the stage.' … No. It's students creating that curiosity that lasts them a lifetime, learning from one another as much as from the faculty members."
Bendapudi said it is important for education to be accessible to everyone.
"Education cannot just be for the elites," she said. "Not only is student success the most important imperative we have, I am a firm believer and supporter of these [Commonwealth Campuses]. Already this is my second visit to campus."
Bendapudi, who assumed her role as University president in May of 2022, also acknowledged the students and the student leaders from the Student Government Association who were at the event.
"This is for you," she told them. 
Penn State Beaver Interim Chancellor Carey McDougall said the building was designed to create a collaborative learning environment and to foster a sense of belonging in the students.
"We believe we have brought that vision full circle. Students who are here, this is your building, and it's dedicated to your success," McDougall said. 
Bendapudi echoed that sentiment. 
"We want you to have that sense of belonging and use your time here and let it inspire you on your journey," she said.
The event to celebrate the reopening of the GCB was attended by students, faculty, staff, Penn State Beaver advisory board members and other community stakeholders and partners.
Joining Bendapudi at Penn State Beaver were Rick Brazier, senior associate dean for faculty and research and University College interim dean; David Callejo, vice president and senior associate dean for academic programs; Carlos Rodriguez, assistant vice present and executive director for budget and executive planning; and Bill Sitzabee, vice president of facilities management and planning and chief facilities officer.
"Students who are here, this is your building, and it's dedicated to your success."

—Carey McDougall , Interim Chancellor, Penn State Beaver