Amphitheater to be removed, replaced with natural landscaping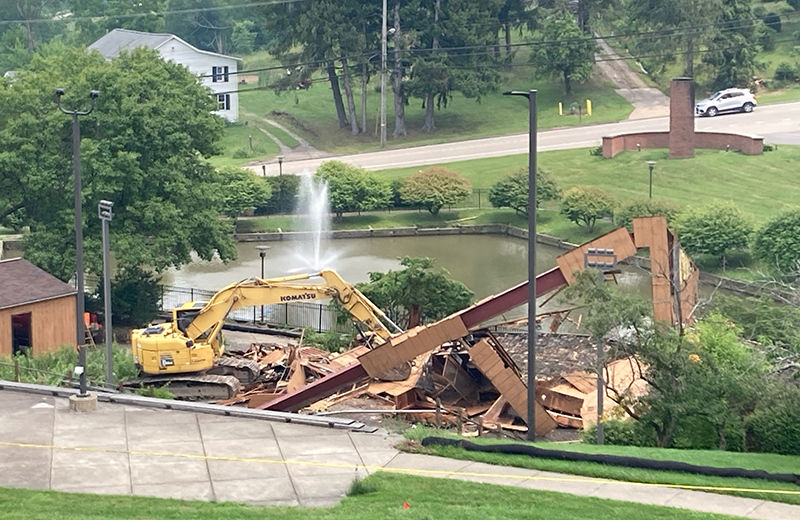 MONACA, Pa. — People visiting Penn State Beaver or passing by campus on Old Brodhead Road may notice work at the entrance. The J.P. Giusti Amphitheater at the campus entrance will be torn down and replaced with natural landscaping and a space for students and the community to gather.
"Over the past few years, the campus has been brainstorming ideas as to how to make the front entrance of the campus more esthetically pleasing," Bill Dungee, director of finance and business at Penn State Beaver, said. "After a comprehensive study, it was determined that amphitheater had not been utilized since 2015 and has now become not only unsightly, but also a structural hazard and therefore, beyond repair."
"The land that Penn State Beaver sits on has a long tradition of being restorative and enjoyed by our wider community," said Carey McDougall, interim chancellor of Penn State Beaver. "We are looking forward to the new landscaping at the campus entrance as it will provide further opportunities to enjoy the pond, be part of celebratory photo sessions, and stroll through our 105 acres."
The amphitheater concept was developed by the Beaver County Commissioners, and it opened in 1975. The amphitheater hosted many events over the years including bands such as The Clarks and the Povertyneck Hillbillies and local theater companies. 
The amphitheater was named after the campus' first executive officer, Joe Giusti, who was instrumental in the foundation of Penn State Beaver. In the early 1960s as the University was preparing to convert the land that had formerly been a tuberculosis sanatorium, Giusti undertook a fundraising endeavor and raised $1.4 million toward the new campus. Giusti, who earned both his master's and doctorate degrees from Penn State, served as Beaver's campus director from 1965 to 1979, overseeing 14 years of immense growth. Penn State Beaver leadership is planning to honor Giusti's memory in the new community space at the campus entrance.