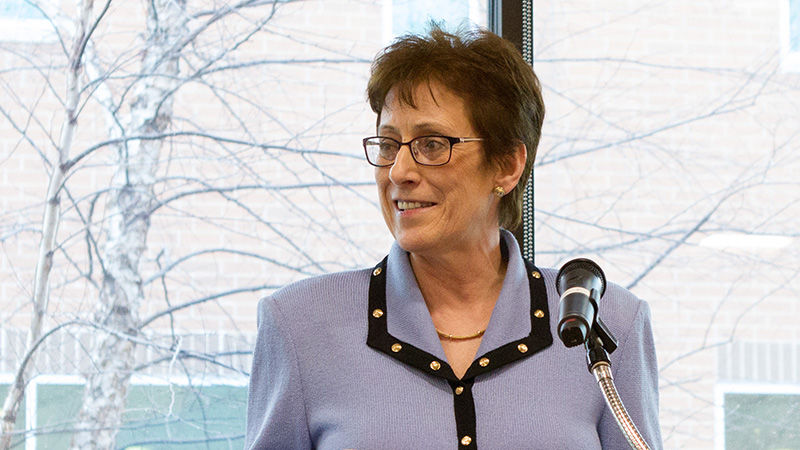 MONACA, Pa. — Donna Kuga didn't smoke, but that didn't stop her from taking smoke breaks.
When she had a story to share or a matter that required group discussion, she'd gather her crew this way: march into former Public Relations Director Amy Krebs' office, pound on Development Director Diana Patterson's adjoining wall, and holler "smoke break" down the hall.
"Of course she could have knocked on our doors and said she needed to speak with us, but that wasn't her way," Patterson said with a chuckle. "Donna was really a professional — she always put the campus first — but she liked to have fun, too."
Kuga died on Wednesday, March 8, following a long illness. During her nearly 40 years at Penn State Beaver, Kuga served as a professor, coach, athletic director, director of academic affairs, and interim chancellor.
But perhaps her most important role was one that bore no professional title: She loved the campus. She supported the campus. She believed in the campus.
In fact, she continued to do all three as late as last week, when she met Beaver Chancellor Jenifer Cushman for coffee and conversation.
"She remained a friend to this campus long after her retirement," Cushman said. "I'm grateful for the short time I knew her and even more grateful for her lifetime of commitment to Penn State Beaver."
It was a sentiment echoed across the campus Thursday, as faculty and staff mourned Kuga's loss and recalled memories. Kuga was a private person and "a bit of an introvert until she got to know you," said Patterson, but that didn't make her a quiet person. She often sang — loudly — as she walked the halls of the Ross Administration Building and was quick to offer a well-placed quip or opinion, whether or not you requested one.
Though the adjectives most often attributed to Kuga speak of a tough exterior, Student Affairs Director Chris Rizzo's thoughts kept returning to 2015, when an employee in his department faced a trying family crisis.
"I was really struck by her authentic concern and caring," Rizzo said. "I'm sure she's done that so many times over the years. But we don't know about it because it was behind closed doors, in quiet times, in difficult situations."
"She really did care about us, just as we cared about her," said Director of Enrollment Dan Pinchot. "She was trustworthy, loyal and so passionate about Penn State Beaver. While she'll be missed by everyone at the campus, the mark she left making this campus a better place will live on forever."
Kuga earned her bachelor's and doctoral degrees from Penn State, her master's degree from Slippery Rock University and taught at Western Beaver High School and the Community College of Beaver County before beginning her career at Beaver.
After many years as professor and coach, Kuga became acting director of academic affairs (DAA) in 1997. A year later, she was hired full time to the position. She remained DAA until 2014 when she agreed to lead the campus through an extended chancellor search after the late Gary Keefer's retirement.
Though she served stints as the women's basketball and softball coach, her specialty was volleyball, for which she earned Penn State Commonwealth Campus Athletic Conference Coach of the Year four times and Western Pennsylvania Collegiate Conference Coach of the year once.
She received the All University Excellence in Advising Award from the Penn State Undergraduate Student Government Association, the Outstanding Academic Adviser from Penn State Beaver SGA and the Community Action Grant from the American Association of University Women Educational Foundation.
A celebration of her life will be held from 1 to 4 p.m. Sunday, April 2, at Seven Oaks Country Club on Lisbon Road in Beaver.
Contact
April Johnston
Public Relations Director, Penn State Beaver