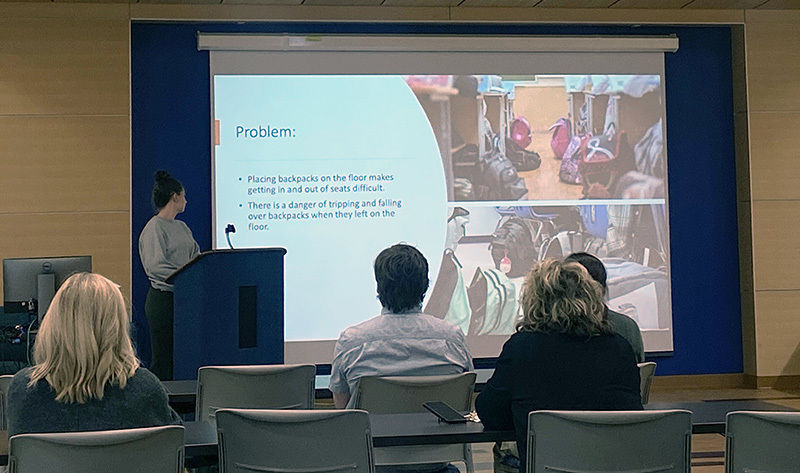 MONACA, Pa. — Nine final teams of Penn State Beaver students entered the Lion's Den to present their ideas for campus improvements to a panel of campus advisers.
 
The seventh annual Lion's Den pitch competition was held Nov. 10 in the Student Union Building Lodge. The Shark Tank-style event invites students to submit ideas for campus improvements. Initially 48 ideas were submitted for review by a panel of judges. From there, nine teams went on to the final pitch event.
 
The Lion's Den is part of the Beaver Valley LaunchBox programming, and is supported by Club Potential, a student club for entrepreneurship and innovation.
 
The students and their respective ideas were:
Fakhr Mohammed and Katelyn Hauser — Prayer room on campus
Katilyn Fadeley and Sid Jathan — Backpack holders in classrooms
Julia Belcher, Erica Timmons and Fakhr Mohammed — Morning yoga on campus
David Lenze, Kaylee Miller and Osarumwense Ehigiamusoe — Storage facility for students
Selene Lopez and Danila Tarakanov — Digital student ID cards
Kristina Edwards and Logan Mennell — Movie night in the auditorium
Isaac Tomacari and Samantha Kurtyka — Outdoor sitting areas on the Quad
Elizabeth Shane — Famers market on campus
Zachary Whalen and Allison Vankirk — Remodel a portion of the gym area
The students presented to Chancellor Jenifer Cushman, Director of Academic Affairs Carey McDougall, Director of Student Affairs Chris Rizzo and Reference and Instructional Librarian Frankie Checcio. 
 
The panelists asked the presenters questions about their ideas. All the teams were encouraged to keep working with campus leadership to bring their ideas to fruition.