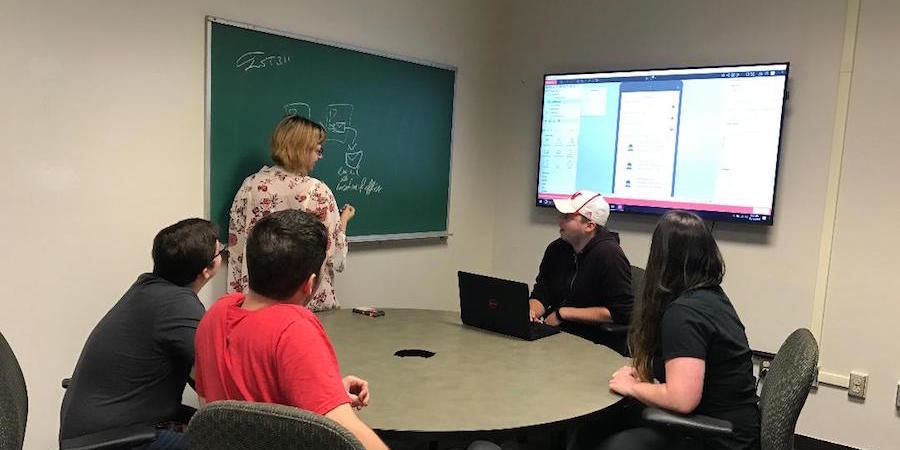 MONACA, Pa. — Richard Lomotey, assistant professor of information sciences and technology at Penn State Beaver, had the research students and the community partner in place to build a much-needed, health-related mobile application for Beaver County.
What he didn't have was a dedicated lab for his students to work.
Until now.
Lomotey, Academic Affairs Director Carey McDougall, and Finance and Business Director Adam Rathbun joined forces to transform a classroom in the General Classroom Building into a space where IST students can meet, work and collaborate.
And now an app that helps to connect trauma victims with skilled area therapists has a place to live and grow, as do the many other projects Beaver IST students are creating.
"It gives us the leverage to work at our own pace and to meet 21st century research demands," Lomotey said. "I've seen research productivity increase 20 to 30 percent in terms of deliverables."
Since joining the Beaver faculty in 2015, Lomotey has guided multiple mobile application projects from concept to reality. Among them are an app that helps hemophilia patients track symptoms, an app that assists farmers in diagnosing and curing disease in crops, and an app that allows patients to securely transport digital medical records from provider to provider.
The medical records app was a collaboration with Joseph Pry, an IST student who died earlier this year and who was instrumental in developing the lab's layout and technology, which includes boards for mapping and brainstorming, a workstation for meetings, and a screen for mirroring monitors and conducting virtual meetings.
"He was able to bridge the gap and help us to understand student needs," Lomotey said.
The latest project is one Lomotey believes Pry, a combat veteran, would have appreciated. A team of students from IST 311, an application development class, is teaming with Beaver-based Intersections Wellness to build a database of area mental health care providers who treat trauma. The app will be searchable by specialty and provide peer evaluations so that users are better able to match their symptoms to a therapist's expertise.
Intersections Wellness founder Paula Soto explained the underlying problem to Lomotey this way: When trauma victims search for a therapists, they often begin with Google and choose the provider based on location, convenience or a vague connection to their particular issues. If the therapy isn't helpful, the victims often conclude they cannot be helped, when, in reality, the provider just may not be a good match.
"The application will better evaluate who to seek help from," Lomotey said.
And helping people use technology to meet their needs is what IST is all about.
"IST lives at the intersection of technology and people," Lomotey said.
Contact
April Johnston
Public Relations Director, Penn State Beaver