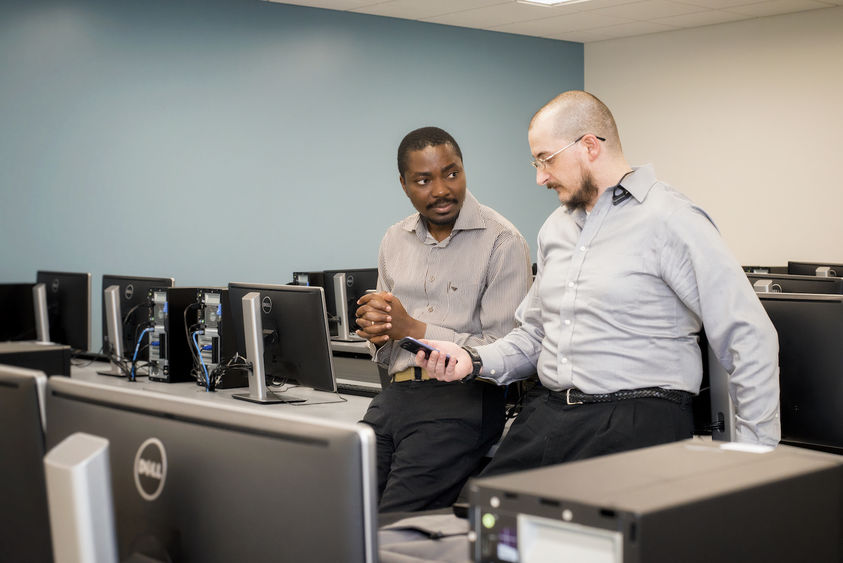 MONACA, Pa. — Security is an obsession in the mobile application world. Consumers want it, so the best apps must provide it. But running the encryption algorithms it takes to obtain it consumes an awful lot of energy. (If you've ever been on the bad side of a dead battery, you know how frustrating that can be.)
So technology researchers are forever testing encryption algorithms to get the right mix of safety and efficiency. The problem is, every mobile device, every application, every network, is different, which makes hitting the algorithm sweet spot a bit tricky.
Penn State Beaver Assistant Professor Richard Lomotey and information sciences and technology student Joe Pry decided it was time to find a better method for testing algorithms. Instead of running them on sometimes-unpredictable mobile devices, the pair tested algorithms in a controlled environment — a desktop computer on a hardline, gigabit network. They took baseline energy consumption measurements, then calculated energy consumption with the algorithms running. Analyzing that difference in consumption allowed them to recognize the most efficient algorithms without needing to consider any outside interference.
Pry designed the test platform and helped chart results, and Lomotey wrote a paper detailing those results, which they were asked to present at the Institute of Electrical and Electronics Engineers' BigData Congress 2016, held in San Francisco over the summer.
The experience was a heady one for Pry, who had never attended a professional conference before. After getting lost in San Francisco (it wasn't so bad, he got to walk through the dragon gate in Chinatown), Pry settled into the fits of inspiration that such conferences provide.
"I'd go back to the hotel and start hashing out code, and then realize it's 8 p.m. and I haven't eaten yet," Pry said.
One day he sat down next to the congress organizer and began chatting, and it hit him: "I'm talking to the person who took the time to put together this enormous mind meld of people."
The conference experience wasn't the only upshot of the encryption algorithm research. Pry applied the results to another project he's been working on — developing a software framework that would allow patients to carry their encrypted medical records from doctor to doctor on a mobile device.
After receiving a $3,500 Rodney A. Erickson Discovery Grant from the University, Pry spent the summer working on the software, which he is now ready to test in a doctor's office.
But first, he'll have to recover from that San Francisco trip, which involved an awful lot of unintended exercise. "I used to run hills all the time," the Army vet said with a laugh. "These hills were rough."
Contact
April Johnston
Public Relations Director, Penn State Beaver