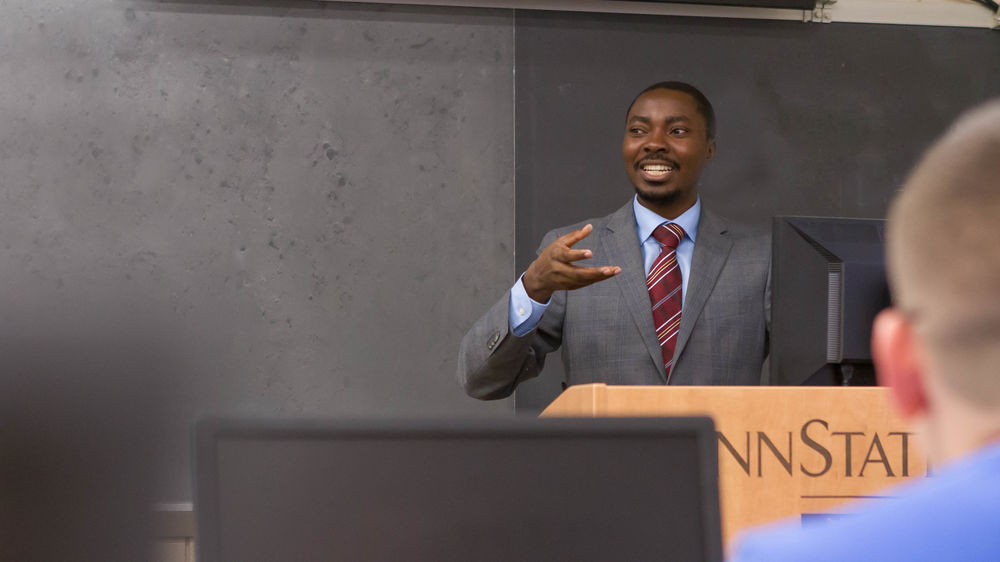 MONACA, Pa. — There's this assumption about young, active men — they don't like to admit when they're injured.
For most of the population, it doesn't matter much. They can limp their way through a twisted ankle or ice a bruised cheekbone without further incident. But for those with mild hemophilia — a blood clotting disorder — a single, simple bump can result in significant pain, decreased mobility and missed school or work.
"Recovery can take six months and costs the health care system and work places," said Penn State Beaver Assistant Professor of Information Sciences and Technology Richard Lomotey.
So Lomotey and three Penn State Beaver IST students — Joseph Pry, Sumanth Sriramoju and Chenshean Chai — along with a team of international collaborators from Saskatchewan Health Region, Manitoba Health Region and Children's Hospital in Winnipeg, have come up with a solution.
It's an app called the Hemophilia Injury Recognition Tool, which allows young men with hemophilia (or their parents) to track symptoms after an injury. Based on inputted data over time, the app estimates if the injury is getting better or worse, recommends when to seek treatment, and even lists the nearest treatment center.
"The app is like having the presence of your doctor in your pocket," Lomotey said.
Before the app, most young men with mild hemophilia were tasked with assessing the severity of their own injuries, with the help of a flyer or handout from their doctors.
"What we have done is delegate that assessment to the app," Lomotey said.
As with any health-related technology, the app doesn't replace professional advice, but it does prompt those who might otherwise ignore a growing problem to address it.
The app is currently available on Google Play and Lomotey hopes an Apple version will be coming soon.
Contact
April Johnston
Public Relations Director, Penn State Beaver