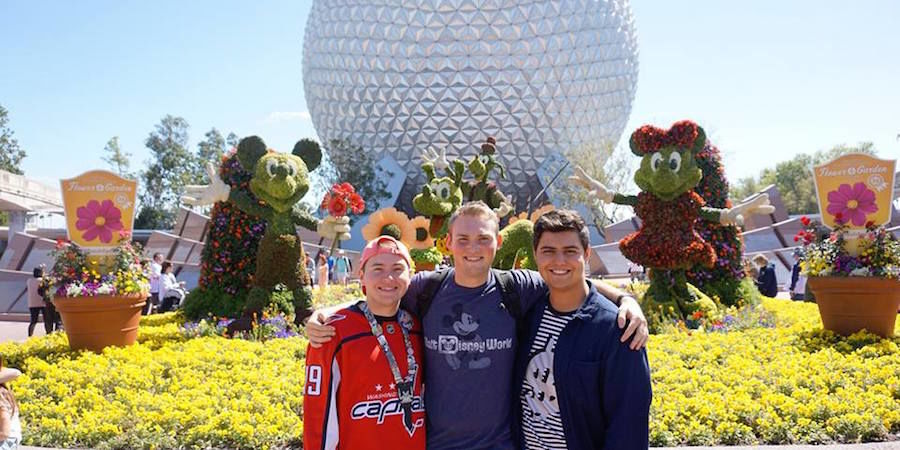 MONACA, Pa. — Penn State Beaver junior business major Nick Pelino was accepted to the Disney College Program in the fall and has spent the spring semester living in a Disney-owned apartment with five Disney-loving roommates. His stellar job performance just earned him a two-month extension on his internship. Here's a glimpse at Pelino's semester in "the most magical place on Earth."
How is life in "the most magical place on Earth"?
It's awesome! I'm really loving it down here. I love my job, and I love where I'm living.
Did you have an existing fascination with Disney before you applied?
Oh my gosh, yes! I've been to Disney World at least 10 times — before I started the program. And I've been to Disneyland once.
Tell me about the process of applying for the program.
First, I sent out my application. (Note: The application is on the Disney College Program website.) All they wanted to know on the initial application was where you go to school, what your job history is like and what you'd want to do in the program, so not too much information. The next step was the web-based interview. That was kind of like a simulator type of thing. They asked questions like: 'Are you able to deal with people all day long?' 'Are you usually late for work?' As soon as you're done, they tell you if you've moved on to the phone interview, and then a recruiter calls you. My process went really fast. Three weeks after the phone interview was when I found out I got it.
What is your job?
I'm a vacation planner. The majority of my job is in ticket sales. I'm in the booth (at Magic Kingdom) and I sell tickets. I get a lot of people who have never been to Disney World before. They come to the window and don't know what they want — they don't even know there are four parks — and I get to tell them what my favorite things are.
So what are your favorites?
Splash Mountain and the Haunted Mansion. And I always recommend guests go to the Happily Ever After fireworks show. That's probably my favorite thing on the property.
How much are you working?
The funny thing is that I was told one of the disadvantages to vacation planning is that you don't work as many hours as other jobs, but I work more than any of my roommates. I usually work six days a week, about 45 hours. I'm always scheduled for overtime.
Well, it's good that you're making more money.
Yes! I spend it. (Laughs) It's all going back to food and Disney merchandise.
OK, there have to be perks associated with this program. What do you get to do that the average visitor doesn't?
We do get access to all of the parks. On days off and after work we're always going to the parks. We get some discounts on merchandise and food (Note: Pelino's favorite is Deluxe Burger in Disney Springs.) Then they have different backstage tours we can take. Two of my roommates did a backstage tour of the Haunted Mansion. And we just entered a contest to stay in the Cinderella suite (Note: A private, luxury hotel room located in Cinderella's Castle). We get a lot of classes, too. They offer networking and resume enhancement classes.
What's been the best part of your experience so far?
Honestly it's just been working here. Sometimes I just sit back and tell myself, 'I'm actually working at Disney.' I get to have guest interactions all day long, and I get to make magical moments. One time I had a guest who had waited an hour and a half to get to my window. They were so excited — still — even though they waited. They were at my window for so long, they were going to miss their Fast Pass (Note: A program that allows guests to skip the lines and head straight to the attraction at a designated time). So I went back and got the form and filled it out so they wouldn't miss it. That's another great thing about my job — I didn't have to go call a coordinator to do that. They tell us, if we know what we need to do, we can just do it. We have a lot of independence.
Is your goal to work there full time someday?
It's always been in the back of my mind. But being down here more and hearing so many of the leaders say they started in the college program, I feel like I'm on the right track and I got my foot in the door. I'm coming back (to Beaver) to finish my degree, for sure, but after that I want to come back down and do a professional internship. They're only offered to people who did the college program. I want to do one with guest relations and work my way up from there. It's so cool that you can work in so many different places in the park. And the weather's really nice, too.
You got used to that weather quick, didn't you?
(Laughs) Yeah, the other day it was 70 degrees, and I had a jacket on because I was cold.
Are you ever coming back to Pennsylvania?
Yes, I am definitely coming back. My last day here is July 26 and I start back to work (in the Beaver Admissions office) on July 30.
Editor's Note: This interview has been condensed for clarity.