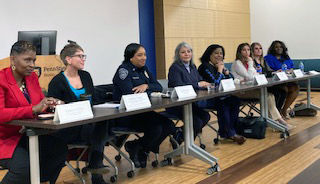 MONACA, Pa. — Local women who work in the criminal justice and legal fields told Penn State Beaver students recently to follow their hearts and make the most of every experience while seeking their future careers. 
 
The speakers were part of Women in Criminal Justice and the Law, an event organized by Jodi Gill, lecturer in criminal justice, as part of her Criminology/Soc 12 classes. Gill partnered with the Criminal Justice Club for the event, which was funded through a microgrant from University Park and open to the entire campus community.  
 
Gill, who is also the internship coordinator for the criminal justice program, said she wanted to give people the opportunity to hear women in the field talk about their journey and experience working in criminal justice.  
 
Beaver County Common Pleas Court Judge Deborah Lancos DeCostro reinforced to the students in attendance the importance of networking and making connections as they plan for their future. 
 
Marissa Bufalini, supervisor at Southwood Choices, a Penn State Beaver alumna, came back to campus to connect with students who were in the same position she was a few years ago.  
 
"I'm happy that I'm back. I love being back on campus," Bufalini said. "I wouldn't change anything. I love the experience that I had here." 
 
Bufalini had to finish her senior year during COVID in 2020. She said that at the time, she was concerned about the availability of jobs because everything was shut down. She was able to find a job through networking at Penn State and through focusing on her passion for her career. 
 
"My message to students is follow your heart and do what your heart tells you to do," she said. 
 
Katie Dunlavey, a Penn State Beaver student, said she appreciated the event and the chance to hear about the speakers' backgrounds and where they came from. 
 
"This event was helpful to me because it showed me that women can do anything no matter where you come from," Dunlavey said. "Each speaker showed me that having the passion for their job is important because that is the career you will be doing most of your life." 
 
Kaitlyn Vielock, who works for the Beaver County Women's Center and is the chair of Beaver County Human Anti-Trafficking Coalition, said her job involves educating the community and professionals. 
 
Vielock, a Beaver County native who attended Slippery Rock University, said she wanted to give students ideas of fields they can go into related to criminal justice.  
 
Vielock started her career journey working with domestic violence and sexual assault victims as a student advocate at Slippery Rock in 2009. She said her sister introduced her to the criminal justice field. 
 
"I had no idea what I wanted to do," Vielock said. "The opportunity I was given was very different from what I planned." 
 
Vielock's first job involved working with Protection From Abuse orders and in preliminary hearings. She also volunteered in a Lawrence County shelter until she was hired.  
 
Vielock said she spent plenty of time around survivors of domestic violence and was able to learn and understand what they were going through so she could help to impact their lives in a better way.  
 
Vielock also talked about various experiences, including those that might not have seemed good at the time. 
 
"You're always exactly where you [are] meant to be. Even a bad experience in the field is a gift," Vielock said. "I was able to see what I can do to make a difference." 
 
Selene Lopez, a Penn State Beaver student, said hearing from the panelists helped her to learn there's nothing wrong with not knowing what you want to do in the beginning. It's part of the journey, she said. 
 
"This event was helpful in understanding more about the different avenues there are in criminal justice," Lopez said. "As a freshman, I find that helpful since I am still trying to find a path into what I want to do in the future." 
 
Other panelists for the event were: 
    •    Tamara Collier, Education and Outreach, Office of the US Attorney General (Western District of Pa.) 
    •    Ann Lewis, law enforcement liaison at A Child's Place (retired sergeant from Allegheny County PD — 26 years) 
    •    Nelly Peralta, Juvenile Probation, Beaver County 
    •    Julia Sabbio, Adult Probation, Beaver County 
    •    April Martin, Penn State Beaver police officer 
    •    Alexis Cobb, attorney 
 
Anyone who would like to get in contact with the guest speakers can do so by contacting Gill at [email protected].