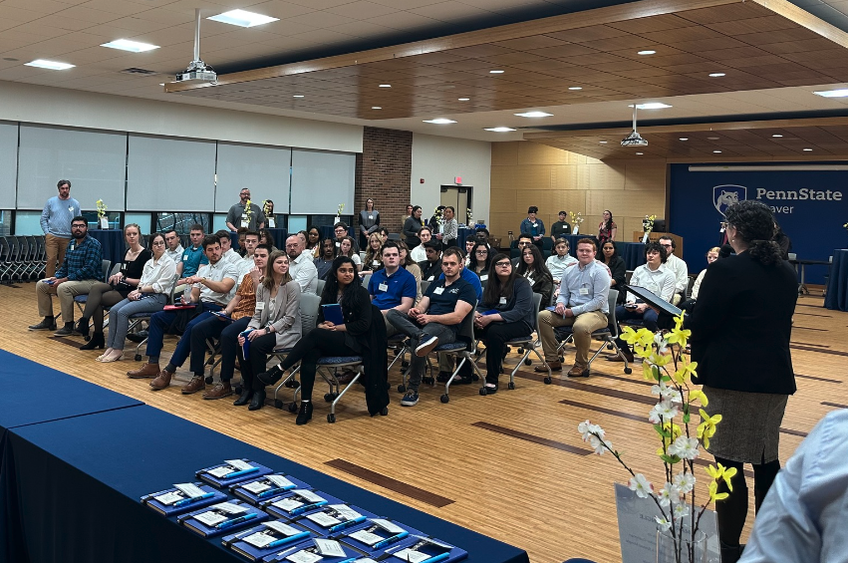 MONACA, Pa. — Networking is an important part of gaining employment, and Penn State Beaver is creating opportunities for students to practice their skills.
 
Penn State Beaver Career Counselor Brenda Schultz and Assistant Teaching Professor of Information Technology Ashu Kumar realized there was a need to help students learn how to network. Schultz said it's important for students to practice networking as they prepare to enter the job market. Numbers back up the need for job seekers to engage in networking.
 
According to the U.S. Bureau of Labor and Statistics, 85% of positions are filled through networking. A CNBC poll found 70% of jobs are never published to the public, and LinkedIn reports 80% of professionals find networking essential to their career success.
 
"I think it's intimidating for professionals sometimes," Schultz said of networking. "Many people don't wake up in the morning and say, 'Yay! I get to network today.' I've never had a student come and say, 'I want to do a mock interview,' unless it's a class assignment. It's the same thing for networking. They don't seek out those opportunities, but if they do participate they tend to come back and say they're really glad they did it."
 
During the 2022-23 academic year, the campus held two networking events for students. The success of those events is acting as a springboard for more networking opportunities for students in the 2023-24 academic year. 
 
The first event was in October as part of the campus' homecoming weekend. Students were invited to a special networking event with Penn State alumni. Twelve alumni participated along with 10 faculty and staff members. 
 
"Every time I say it, it literally gives me chills: Penn Staters love, love, love to help Penn Staters," Schultz said. "October was a whole room of people who want to help these new Penn Staters."
 
Following the success of the October event, Kumar — who also is the Beaver Valley LaunchBox director and adviser for Club Potential — partnered with Schultz to involve several student clubs in a second networking event they called March Mingle.
 
"The events like March Mingle boost the knowledge and confidence of our students as they interact with the industry leaders and understand about the career opportunities that are available to them," Kumar said. "It helps in closing the gap between the classroom and the corporate world for them and motivates them to prepare better for brighter careers."
 
Junior Ethan Davis participated in the March event. "This event helped build my confidence in a professional manner," he said. "I was able to practice for future interviews. I was practicing finding peace being under stress, ultimately knowing it can help for my future."
 
Davis said he made sure to ask questions.
"I would ask questions like: Are there any summer internships available? What does an average day for you look like working here?," said Davis. "And another question I liked to ask was: Are there any locations specific to this employer or are there travel opportunities?"
 
Rising junior Katelyn Hauser not only participated in March Mingle, but she helped to plan the event as president of Club Potential. 
 
"Just going to the event and mingling with business professionals sharpened my communication skills for my future profession," Hauser said. "At first, talking to business professionals got my nerves going, but after I went through a few rounds of 'speed mingling,' I was able to be conversational with most of the professionals … Ever since March Mingle, professionals have been making connections with me on LinkedIn through the professionals that I met at the event."
 
That's what Schultz and Kumar said they hope to see from these events, and they are already planning events for the next academic year.
 
"Students want internships and jobs," Schultz said. "They need to take advantage of opportunities, and we're giving them opportunities to meet people."