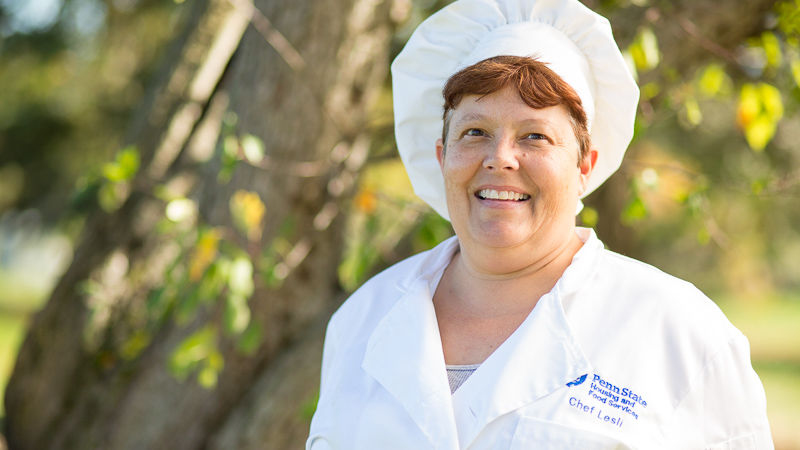 Last year, Beaver business major Katie Work ran to the campus Bistro to grab a quick lunch between work and class. She placed her order with Chef Lesli Kelly and was soon sitting at an otherwise empty table.

Lesli saw Work sitting alone and joined her during her break to eat and talk with her.

"It was really sweet," Work said. "After that, I noticed her doing that with others, too."

Stories about Lesli's warmth and friendly demeanor are being shared across campus and online in the wake of her tragic death.

Lesli was killed on Wednesday when her ex-husband came onto campus and shot her before turning the gun on himself. The incident took place in a parking lot near the Food Services Building.

Lesli had worked at Beaver for 26 years, so students, staff and faculty, both current and former, knew her well and took to social media to express their grief and condolences.

"She was one of the people at the Bistro that made me happy to work there," Lade King Juwon-Owolabi wrote. "After long days, tough classes and pressing due dates, working with Lesli helped me get through my worst days. She always wanted to listen and had something comforting to say."

On campus, those who knew her best spoke of her love for her children and her dedication to her second family at Beaver.

"She was very passionate about what she did, and she really cared about everyone here on campus," student Kylee Arms said.

"She's one of the people who made this a special place," longtime coworker Sharon Gross said.

Friends can attend Lesli's viewing from 5 to 8 p.m. Monday, Dec. 18, and 2 to 8 p.m. Tuesday, Dec. 19, at Simpson Funeral and Cremation Services, 1119 Washington Ave. in Monaca, Pennsylvania. The burial mass will take place at 10 a.m. Wednesday, Dec. 20, in St. John the Baptist Catholic Church in Monaca.

If you wish to help Lesli's children, the Hopewell Soccer Club has created a donation site through Go Fund Me.

Faculty and staff who want to speak with a grief counselor can reach the Employee Assistance Program, Health Advocate, by calling 866-799-2728, option 2. This is a 24-hour helpline and services are free, professional and confidential.

Students can contact Beaver's personal counselor by calling 724-773-3961.