Beaver celebrates fall 2016 commencement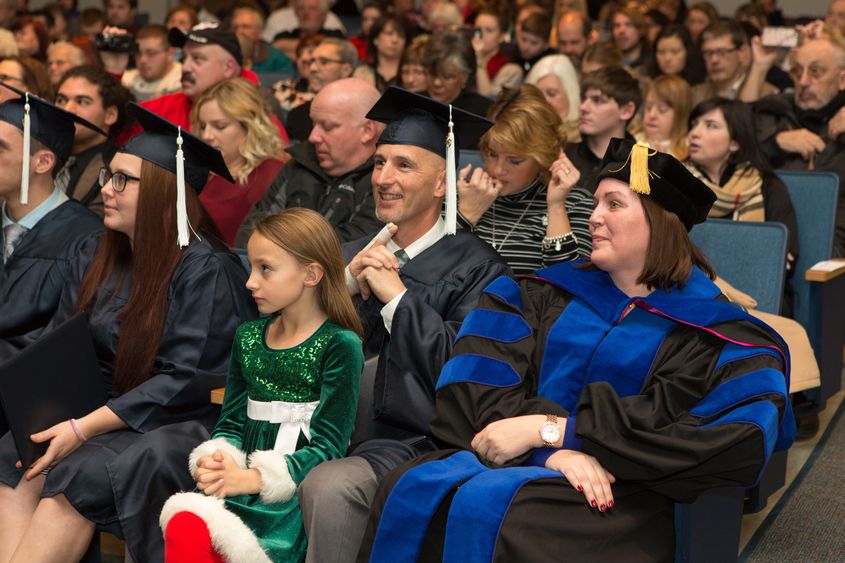 When Penn State Beaver commencement speaker William Hare took the stage on Friday (Dec. 16), he brought two things with him: the tie his sister bought him as a graduation gift 42 years ago and his ill-fitting 1974 class ring.

"Either the ring shrunk or I grew," Hare joked. "Tonight when I get home, I'll have to use dishwashing soap or WD40 to get it off."

Hare, a former Beaver student, was the keynote speaker for campus' 2016 fall commencement.

Eighteen students participated in the ceremony, receiving degrees in administration of justice (AOJ), business, communications, information sciences and technology, and psychology.

One of those students, AOJ major Robert Chamberlain, served as the campus' first student speaker. He was nominated by AOJ Associate Professor Mari Pierce and sociology Senior Instructor JoAnn Chirico to address his peers.

As a Beaver County detective and a father to two girls, Chamberlain had to juggle investigations, court dates and youth sports, along with his classes. His youngest daughter took the stage with him when he accepted his diploma.

"We all made it here tonight because of those around us," Chamberlain told his fellow graduates.

Hare, the Supreme Court of Pennsylvania's deputy district court administrator for Beaver County and a former Beaver campus student, gave the keynote address and told students to "change the world around you by using your Penn State degree to be the best person you can be every day of your life."

Hare graduated with honors from the Law Enforcement and Corrections program at University Park and earned a law degree from Duquesne University Law School.

He has been a dedicated public servant to the people of Beaver County, working as a probation officer, a law clerk, an assistant public defender, an assistant county solicitor and a deputy district attorney in addition to his current position.

He has participated in the Beaver County Mock Trial Program since its inception in 1988, is a member state's bar association, the association of court management and the Supreme Court Criminal Procedural Rules Committee. He also served a two-year term as the president of the Beaver County Bar Association.

He also sits on the campus' Criminal Justice Advisory Board.

Contact
April Johnston
Public Relations Director, Penn State Beaver