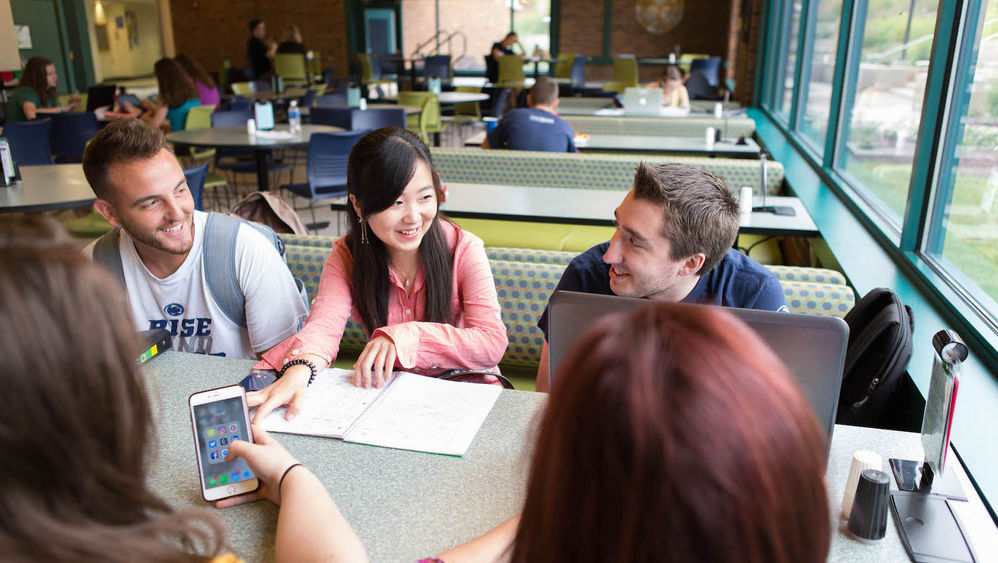 MONACA, Pa. — When she was in high school, Xiaoying "Eva" Zhou spent a week living with an American family in Pittsburgh and attending classes at Shadyside Academy, a prestigious private school.
Though her time at the school was fleeting, she felt an immediate affinity for the American education system. Lectures gave way to discussions and class schedules weren't so prescriptive. Upon returning to her home in Shanghai, Zhou immediately began hatching a plan to attend an American university.
"I wanted to experience a different life, a different culture, a community with different people," Zhou said.
Because she planned to major in business — she wants to be an entrepreneur — and wanted to be close to her high school host family in Pennsylvania, Zhou chose Penn State. The Smeal College of Business, where Zhou will earn her degree, is consistently ranked among the best in the world, and Penn State Beaver, where she decided to start her degree, is a tiny, tight-knit community where she felt instantly connected.
"In Shanghai, it's very busy, very crowded," Zhou said. "Here, the scenery is so beautiful and the people are so nice."
Zhou works as a greeter and math, stats and macroeconomics tutor in Beaver's Center for Academic Achievement. She also works in student affairs, scheduling campus shuttle services for international and out-of state students. Her jobs have provided her with a diverse group of close friends and a needed support system.
"Whenever something happens, I always go right to (CAA coordinator) Jill Tress or (student affairs staff assistant) Jill Bender," Zhou said.
The work, along with her classes, keep Zhou endlessly occupied, which she prefers.
"I'm so busy I don't have time to miss my family," Zhou said. "But I still love my family deeply."
Zhou's parents raised her to be a world traveler, taking extended treks through China, Asia and Europe and allowing Zhou to participate in exchange programs in the U.S. and England, so they were unsurprised and exceedingly supportive when Zhou decided to pursue her degree abroad.
"I really appreciate my parents," Zhou said. "They respect and care about me so much and they support everything that I was going to do. They trust and believe in me 100 percent."
Zhou thinks she will return to China after graduating. She envisions owning an international chain of coffee shops, and wants the original to be located in her home country. But from there, she might be back in the U.S., maybe even Pittsburgh, where she's forged a warm relationship with her host family, who visit her on campus and send care packages and flowers. Or maybe she'll try somewhere new. She has friends all over the world — Germany, Canada, Australia, China and England, where she's planning to travel over winter break.
"Your life is only once, right?" she said.
Contact
April Johnston
Public Relations Director, Penn State Beaver