Five undergraduate and graduate students from multiple campuses honored for their commitment to a sustainable future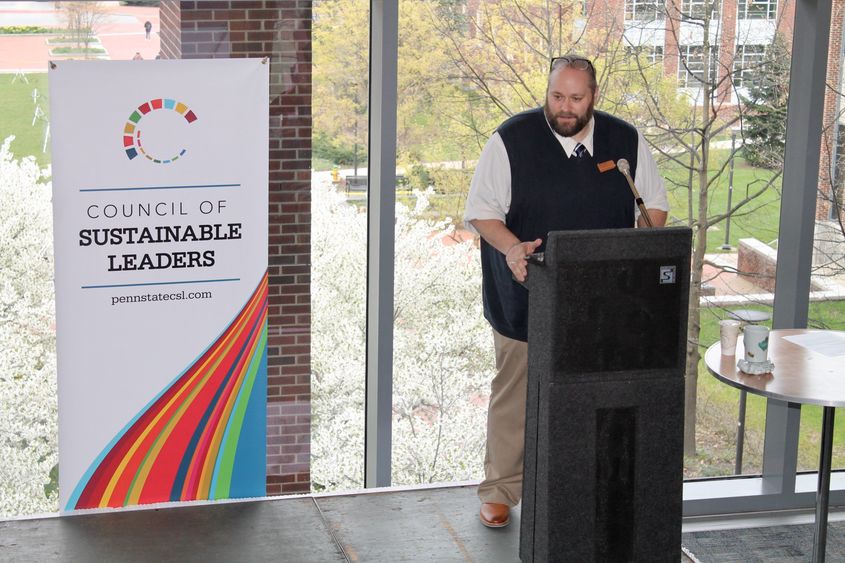 UNIVERSITY PARK, Pa. — On Wednesday, April 17, in a ceremony in the Huck Life Sciences Building at the University Park campus, Penn State bestowed the inaugural Student Sustainability Awards, sponsored by the Sustainability Institute and the Council of Sustainable Leaders. The awards recognize outstanding students and student organizations at all Penn State campuses who demonstrate a sincere commitment to transforming Penn State into a leader in and living laboratory for sustainability.
"The one thing that's always been impressive about Penn State is its students and the energy, compassion and drive that they have," said Doug Goodstein, associate director for student engagement at Penn State's Sustainability Institute. "All of you embody that drive to see the world as a better place."
Faculty, staff and students nominated students around the following criteria: exhibiting service to the Penn State community and beyond; building awareness of sustainability on campus; executing an exemplary project with a lasting impact; demonstrating leadership in a sustainability-related student organization; and/or creating involvement at the institutional level to affect change. From 31 nominees, five were selected as winners.
All the students and people who nominated them were invited to attend the ceremony, where winners received a custom ceramic award designed by Bradley Klem, a Penn State instructor in art and alumnus, whose artwork focuses in part on issues of sustainability and plastic pollution.
"I hope these pieces I've made to honor them travel with them and are a source of introspection and creative thought in the moments they need it most," Klem said.
This year's winners are:
Brandon Bravo, a biology undergraduate at Penn State Abington, was nominated by Shelly Grinar-Boyd, lecturer in biology. As a student Bravo traveled to western Pennsylvania to research potential impacts of unconventional natural gas extraction. His other work has contributed to modeling the U.N. Sustainability Goals on his campus.
"Nature tends to have a way of getting back at us; we should give back to it before it gets back at us," Bravo said.
Marissa Bufalini, a junior in administration of justice at Penn State Beaver, was nominated by Angela Fishman, associate teaching professor of mathematics. Bufalini was instrumental in starting the food pantry on the Beaver campus, works as an intern for the campus garden, and took a leadership role in the Community Table program with the Salvation Army.
"Being selected for this award gives me more opportunities to educate my community on what sustainability entails," Bufalini said. "It's an honor to be acknowledged for something which I've grown to be so passionate about."
Paulo Soares, a doctoral student in energy and mineral engineering at University Park, was nominated by Ilona Ballreich, coordinator of the Sustainable Communities Collaborative, and Jeffrey Brownson, associate professor of energy and mineral engineering. Soares has helped lead undergraduates for three semesters in Sustainable Communities Collaborative projects with the Pennsylvania Solar Center, developing solar power opportunities for small nonprofits in western Pennsylvania.
"Being one of the award winners is already making me think about how I can improve the way I live my life so it can be more and more sustainable," Soares said.
Natasha Sood, a first-year Penn State College of Medicine student, was nominated by Daniel R. George, associate professor of medical humanities, and Sarah Bronson, associate dean for interdisciplinary research in the College of Medicine. Sood is the founding president of the medical student organization Environmental Health in Medicine, which is seeking to define goals for education, composting, recycling, clinical applications,and sustainable institutional policies for the Environmental Health in Medicine program.
"I am encouraged to continue to work with the wonderful team at Penn State to create a more sustainable campus and world, as I am convinced that our dedication to this critical issue will impact generations to come," Sood said.
Haley Stauffer, a senior in biorenewable systems at University Park, was nominated by Tom Richard, director of the Institutes of Energy and the Environment, and by fellow students Benjamin Lyman and Janelle Thompson. Stauffer has been part of the University Solid Waste Task Force and is a board member of the Student Sustainability Advisory Committee's Food and Waste subcommittee.
"Thank you for this opportunity for me to look back on what I have accomplished here at Penn State and to remind me of what I am working towards," Stauffer said. "I intend to continue nurturing the seed of positive change for generations to come.
At the ceremony, the Student Sustainability Advisory Committee also presented its annual Sustainability Leadership Tree Award, which highlights the impact and leadership of a sustainability-focused student on University Park campus.
This year's recipient is Sam Anawalt, a senior in energy and sustainability policy at Penn State World Campus. Anawalt is the executive director of the Council of Sustainable Leaders, created the EcoCoin program to reduce plastic bag use at all Penn State bookstores, and is working on a startup company to provide portable water fountains that can reduce single-use plastic bottle usage at events.
As part of the award, a tree was planted in Anawalt's honor near the HUB-Robeson Center.
"I'm excited to have a tree be a legacy and reduce some of the carbon emissions around Penn State and to be able to come visit that tree in the future," Anawalt said.