Penn State Beaver adopts new student printing policy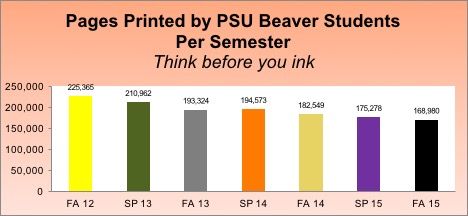 MONACA, Pa. — Think before you ink.
That is the basis for Penn State Beaver's new printing policy.
Beginning in the fall, each student will be allotted 175 printed pages per semester. Any printing beyond that will carry a charge of 5 cents per black and white page and 15 cents per color page.
Printing will be tracked via computer login.
This is a cost-saving and sustainability measure. In the past, the campus has funded all student printing costs without limit, and students have printed an average of 300 pages per semester since 2012. With the so-called pay-to-print model, the campus will supplement printing costs using a small portion of the student technology fee, freeing the remaining money for technology needs.
Beaver is one of the last campuses in the Penn State system to adopt pay-to-print. On campuses where this model has been implemented, the average student does not approach the page limit, and very few — less than 10 percent — exceed it.
"This measure is really designed to get students to reconsider and pay closer attention to their printing needs," said Director of Academic Affairs Carey McDougall. "I think what we're going to find is exactly what students on other campuses have already experienced — this policy will not negatively affect their classes."
To ease the campus into the new model, Beaver students have been allowed more pages than is typical. Across the Penn State system, the campus average is 150 pages and the University standard is 110.
Contact
April Johnston
Public Relations Director, Penn State Beaver