A drone that delivers refreshments to spectators at events grabs first place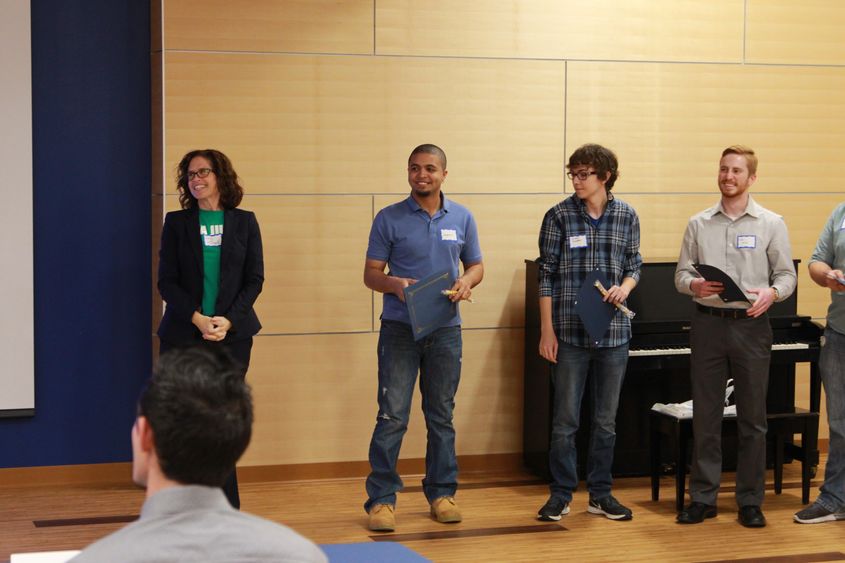 MONACA, Pa. — For Leighton Markus, Tuesday night was a night of firsts.
He was the first presenter at the first Lion's Den idea competition at Penn State Beaver, and he won first place for his plan to have drones deliver refreshments to spectators at sporting events.
For his string of firsts, Markus won $400 in entrepreneurial funds to further his idea. He will also get the support and mentorship of University and community experts so that the "snack drone" can become a reality.
Markus was one of five teams to present to judges Tom Day, owner of Day Capital Group; Tina Genes, STEM coordinator for the Franklin Center of Beaver County; Lynette Zanotti, project manager for Health Fidelity; Josh Hogenmiller, owner of Totally Baked Powder Coating; and Ashu Kumar, information sciences and technology instructor at Beaver.
Alex Mammay, Evan McStay and Garrett Scheffler took second place and a $200 prize for their location-based activity finder, and Troy Martin, Anthony Patterson and Justin Ruff won the Audience Choice Award for their premium parking lot app.
Lion's Den invited students of all majors to pitch their business proposals — whether newly sprouted or fully formed, high tech or low tech, centered around something as lofty as sustainability or something as simple as tracking down the area's best pizza.
More than 30 students entered the competition and five teams were chosen to pitch to the judges on Tuesday evening. In addition to the three teams above, Brandon Bonager introduced judges to a license plate recognition system that would allow police to run faster and more efficient checks, and Hailee Atkins and Courtney Lodovico pitched a fashion app where professional stylists dress users with items from their own closets.
The Lion's Den is part of a larger initiative at the campus to foster entrepreneurship and innovation among the student body.