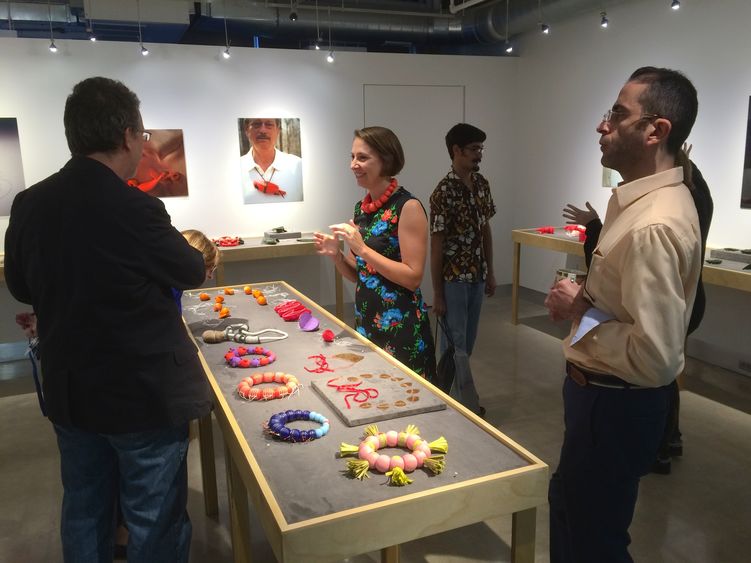 MONACA, Pa. — Technology changes everything. Even jewelry.
Just ask Rebecca Strzelec, the Penn State Laureate and visual artist whose contemporary artistic methods, such as 3D modeling, have transformed her from a traditional bench jeweler to an innovative visual artist and object maker.
Strzelec will talk about that evolution when she visits Penn State Beaver on Nov. 9 and 10.
The University's laureate program, launched in 2008, is an opportunity for full-time arts or humanities faculty members to bring greater visibility to their work, their fields and the University, appearing at events and speaking engagements across the state.
Strzelec has worked at Penn State since 2002 and is head of the visual art studies degree program at Altoona. Her work investigates the ways wearable objects interact with the surfaces of our bodies. She creates these objects using computer-aided design and rapid prototyping, or 3D printing.
Because her work cuts across disciplines, Strzelec will be visiting both art and engineering classes while on the Beaver campus. The campus community is welcome to attend the following sessions:
Art + Engineering = Creative Problem Solving, 11:15 a.m.-12:15 p.m. on Nov. 9 in 20 Michael Baker Building
Strzelec has been using engineering techniques — including 3D printing — in her work since 1999. This talk looks at 3D printing's trajectory and introduces the work Strzelec completed on a 4-year, $2 million NSF grant focused on origami and smart materials.
Layers: 15 Years of Storytelling Through Contemporary Jewelry, 11:15 a.m.-12:15 p.m. on Nov. 10 in 115 Michael Baker Building
This talk takes the audience on a tour through the stories, challenges, methods and discoveries Strzelec has woven throughout her artwork.
Family Jewels: Redefining future heirlooms through concept and technology, 2:30-3:30 p.m. on Nov. 10 in 115 Michael Baker Building
This talk will focus on how artists are using technology and modern materials to create tomorrow's heirlooms and embed their personal narrative and history in their art.
Contact
April Johnston
Public Relations Director, Penn State Beaver