Penn State Beaver students to help restore several blighted city blocks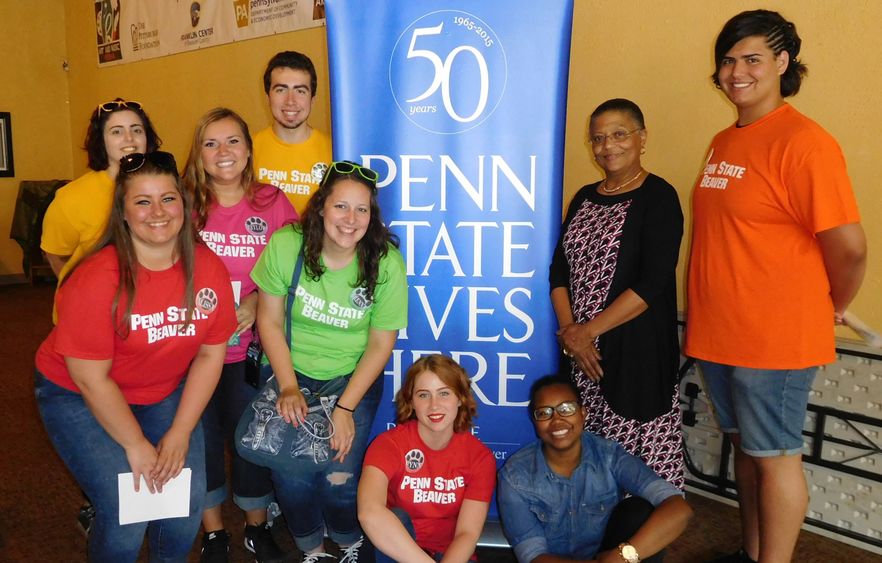 On Saturday, Aug. 20, Penn State Beaver students will paint the town.
Literally.
As part of New Student Orientation, Beaver's Class of 2020 will join community members and artists in Aliquippa to paint wooden pallets, which will then be affixed to broken windows and doors, turning a few blighted city blocks along Franklin Avenue into a sea of form and color.
Aliquippa, as longtime Beaver County residents know, was once home to J&L Steel and a vibrant business district. But in the 30 years since J&L's closing, Franklin Avenue has deteriorated, looking much as you'd expect a "Rust Belt" city to look — worn and empty.
Valerie McElvy is one of those people who refuses to acquiesce to the moniker. She is director of Serving U Beaver County, an arm of the Franklin Center, the Aliquippa-based organization that provides human services, outreach and referral services to low-income and unemployed county residents. And she still very much believes in Aliquippa's beauty and potential. Painting the town is akin to applying a full face of makeup — the inside is beautiful, but the outside needs to look the part.
"(Franklin Avenue) is the most traveled road in the county," McElvy said. "We want people to see that things are changing."
Fortunately, Penn State Beaver has the manpower — or new student power — to fuel McElvy's vision.
This isn't the first time the campus has partnered with the Franklin Center. The student activities office and Student Government Association have previously come together with the center for MLK Day of Service, Black History month and homelessness awareness events.
"The collaboration with the Franklin Center the past 18 months has provided many new opportunities for Penn State Beaver students to get involved," said Jennifer Toof, the campus' student activities and residence life coordinator. "Our goals are simple: Diversity, fellowship, community involvement, leadership, education and unity."
Community is also one of the University's six core values, those ethical aspirations that all students, faculty and staff strive to uphold in their activities and actions. So it's fitting that the campus' newest cohort will be introduced to the Franklin Center and to the concept of community engagement before they ever set foot inside a classroom.
"Events like these are one way that we're really showing that value and committing to that value," said Chris Rizzo, Beaver's director of student affairs.
For more information regarding student, faculty and staff involvement, contact Jen Toof at 724-773-3947 or [email protected].
Contact
April Johnston
Public Relations Director, Penn State Beaver