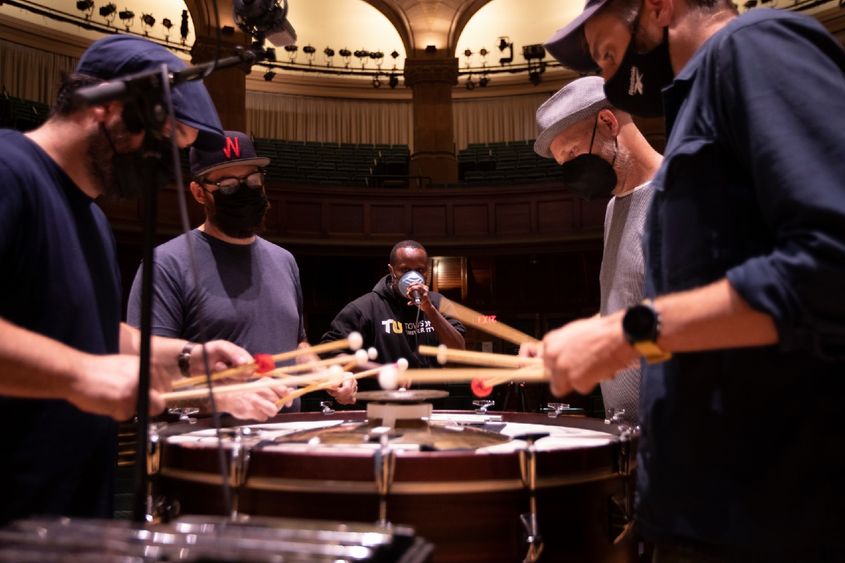 ERIE, Pa. — The Oct. 19 Music at Noon concert at Penn State Behrend was a full-circle moment for Dominic Shodekeh Talifero. The Maryland-based beatboxer, who uses the stage name Shodekeh, first performed in public as an undergraduate at Penn State.
"It was a major milestone in my life," he said. "I learned so much about what I was capable of doing at Penn State."
At Behrend, he sat in with Sō Percussion, a New York quartet that has recorded more than 20 albums. The group has performed at Carnegie Hall and Lincoln Center and serves as the Edward T. Cone Performers-in-Residence at Princeton University.
The group's setlist for Music at Noon: The Logan Series included a composition by Shodekeh titled "Vodalities: Paradigms of Consciousness for the Human Voice." The three-movement piece explores beatboxing, vocal percussion and what Shodekeh calls "breath art." The third movement will debut in December at Carnegie Hall.
Shodekeh first collaborated with Sō Percussion in 2018. During the pandemic shutdown, he suggested he compose for the group. He recorded "Vodalities," and the quartet transcribed it for instrumentation.
For Shodekeh, beatboxing was a bridge out of childhood abuse. He learned to mimic the sounds around him and then molded them to his own use.
"I've used music to fight my way through trauma, all the way to Carnegie Hall," he said. "Beatboxing became my way to reclaim my life and my body."
As a teen, Shodekeh won a bronze medal in videography from an NAACP program. He was invited to a two-week film residency at Penn State. That experience opened him to the possibility of college: He enrolled at Penn State Beaver in 1997 and eventually transferred to Penn State's University Park campus.
While at Penn State, Shodekeh was part of an a cappella group that combined traditional collegiate a cappella and beatboxing vocal percussion. That led to a beatboxing ensemble, and to a spot opening for Nelly.
"That is one of the most fun things I have done in my life," he said of that period.
At Penn State, he beatboxed for a dancer who responded in real time to his performance. That became an ongoing collaboration, which eventually led Shodekeh to Towson University, where he is the Innovator-in-Residence at the College of Fine Arts and Communication.
None of that would have happened had he not taken a chance and tried something different while at college.
"I was taken out of my normal environment and discovered I had some skill," he said, "and I went with it."
Contact
Robb Frederick
Assistant director, news and information, Penn State Behrend