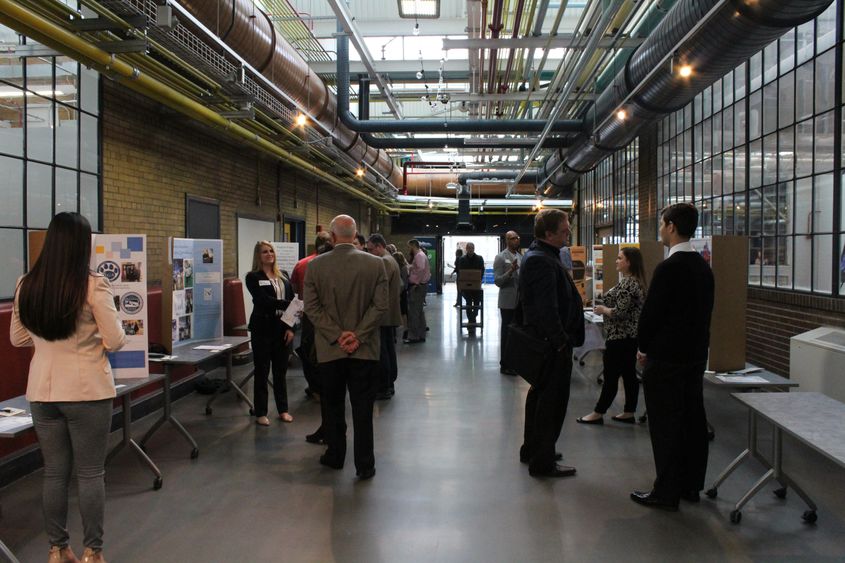 UNIVERSITY PARK, Pa. — Four Penn State campuses sent delegations to Pittsburgh for a first-of-its-kind expo where students presented on their student engagement experiences and impact they've had on their communities.
Funded partially by the Student Engagement Network and its Faculty Academy Program, the Pittsburgh Regional Penn State Student Engagement Expo brought together students, faculty, staff and community members from Penn State Beaver, Fayette, Greater Allegheny and New Kensington at the Penn State Center in Pittsburgh's Hill District on March 29.
Organizer Tim Kerchinski said he hopes campuses in other regions of the state will take the template he's laid out and hold their own engagement expos. Kerchinski was a 2018 member of the SEN Faculty Academy, though his day-to-day University position is with the Pennsylvania Technical Assistance Program (PennTAP) as the innovation team lead.
"Engaging with people and places outside of the classroom, through application of concepts they are currently learning, is an important experience for university students," Kerchinski said. "The expo was a great opportunity for these Pittsburgh-based students to demonstrate to the community and their peers what they contributed, and gained, from those experiences."
Kerchinski has a long history in connecting students to industry partners and the community. Student engagement, he said, is already deeply embedded in PennTAP's grant activities. He said he was inspired to organize the expo by the work that is being done through initiatives such as Invent Penn State, involving campuses and communities across the Commonwealth.
The engagement event allowed dozens of students to showcase a wide variety of engagement experiences through posters and presentations with their peers and to local Pittsburgh business leaders. Four students, one from each campus, were invited to give short presentations before the entire group.
Colin Sames, from Penn State New Kensington, presented in the campus' Homework Hotline initiative, where students at the campus serve as over-the-phone tutors to high schoolers in conjunction with local school districts. Wyatt Thomas, from Penn State Greater Allegheny, presented "Digital Fluency and its use in Proteins Research." Penn State Fayette's Austin Bixler presented on the importance of involvement in student government. Sam Sharpless, of Penn State Beaver, presented "Thinking Out of the Box."
"Penn State students across the Commonwealth are contributing in significant ways as partners in solving community problems and answering societal questions," said Alan J. Rieck, associate vice president and associate dean of Undergraduate Education. "It is important for people across the geography of Penn State to know how Penn State is making a real difference in their lives. Regional expos provide communities the opportunity to hear from students about the impact that the University is making in their region."
Rieck added that it was important for students to be answering real-world, important questions. Further, events such as the expo allow them an opportunity to communicate those answers, an essential skill for career success.
Jim Shields led the Penn State New Kensington delegation to the expo. He is the associate director of career services and professional development at the campus. He said his office helps students find their career path and assists with related necessities such as resumes, networking and career testing.
"This event fell nicely into that," he said of his mission at Penn State. "It was about students showing off their work, introducing themselves, and giving their elevator pitches."
The expo, he said, also reinforced the importance of out-of-classroom activities to a student's development.
Chad Long, director of Student Services at Penn State Fayette, traveled with a dozen students to Pittsburgh for the expo. He said the expo ties in closely with his mission as well.
"We always like to tell students from the day they arrive that they're going to learn the theory, they're going to learn the academic side of it," he said. "Where, we're going to teach them how to apply that theory. We're going to enhance what they learn inside of the classroom. The way we do that is through engagement."
At Penn State Beaver, Christopher Rizzo is the director of Student Affairs and Brenda Schultz the personal and career counselor with Counseling Services. Schultz said that even though some students she's known for years, she still saw a new side of them through their expo presentations.
"While students develop components for their resumes, there are really important components of their education that happen outside of the classrooms, whether those are happening through internships, clubs, student organizations, or other kinds of things that they're involved in," Rizzo said.
Kerchinski was one of four to join the Student Engagement Network's Faculty Academy in 2018. These faculty and staff have embarked on a wide array of projects from the creation of new courses to leadership immersion experiences. Those interested in learning more about the Faculty Academy should visit engage.psu.edu.
Additionally, any Penn State faculty or staff member interested in learning how to create their own engagement expo should contact the Student Engagement Network.
The Student Engagement Network is a joint initiative between Undergraduate Education, Student Affairs, and Outreach and Online Education. The mission of the Student Engagement Network is to advance the power of participation by connecting students with experiences that empower them to make a positive impact as citizens and leaders of the world.