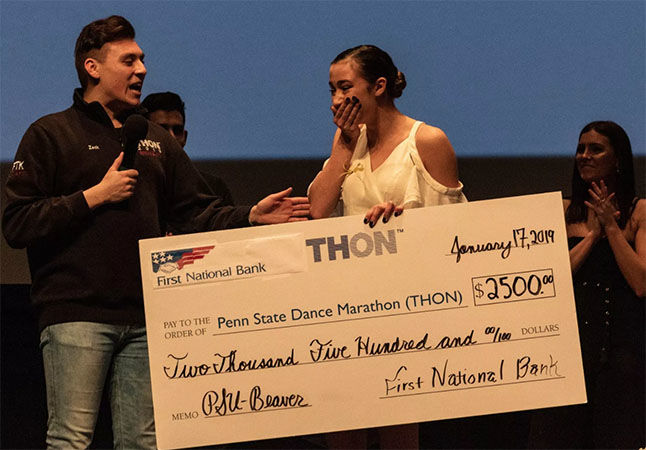 MONACA, Pa. -- Hailey Burbage got involved in THON for Penn State Beaver the way many people end up getting involved in volunteer efforts: a friend talked her into it.
"Marissa Bufalini," Burbage, a 19-year-old sophomore, said with a laugh when asked what made her get involved with THON. "She was like 'Listen, you need to do it. We need people.'"
Burbage agreed to co-chair the THON committee, but one thing lead to another and soon she found herself performing a solo dance on stage Jan. 17 in University Park representing the Commonwealth Campuses in the annual THON Showcase.
She performed a lyrical contemporary dance that she choreographed herself. It is the first time she has ever choreographed her own routine.
Not only did Burbage dance, she won the showcase.
Burbage began dancing at the age of 4 for "Reach for the Stars" in Ambridge. She said she thinks of herself as a well-rounded dancer and is trained in every style of dance, though she feels like lyrical and contemporary dance work best for her long body type.
She now teaches dance and has experience choreographing dances for others to perform, but she said it's different to do choreography for your own performance.
Rather than being able to watch someone else dance and see how the choreography is working, Burbage said she had to rely on watching videos and going by the feel of the dance.
In fact, she made a last-minute change to her routine the night before the talent show. During a stage rehearsal she decided she didn't like a part of her dance, so she changed about 30 seconds of the routine.
"When it comes to dance, transitions are really important, and it just really was not working. So, I fixed it," she said.
The night of the showcase, Burbage said she felt awkward at first, because she was by herself and most of the performers were in big groups and everyone knew one another. She said she was very nervous when she first took the stage.
But then things changed.
"The audience started cheering and almost hyping me up … It was so surreal. And I keep saying that because that's what it was," Burbage said. She said she left the stage feeling really good about her performance.
Burbage performed on stage at THON, and both Burbage and Bufalini represented Penn State Beaver as dancers that weekend.
Thanks to a $2,500 prize to be put towards the campus goal, the team is inching ever closer to reaching its $10,000 total goal.
"Look at little Beaver doing big things," Burbage said.