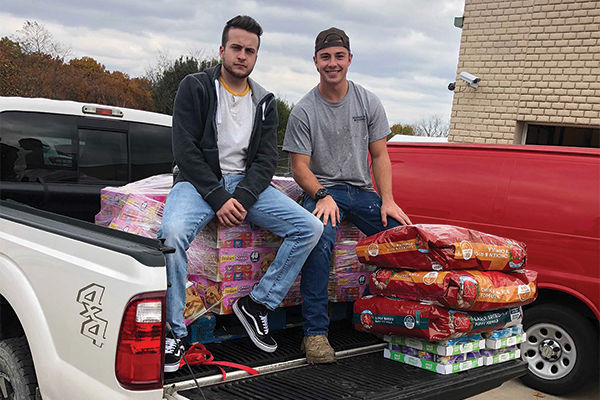 For the second year in a row, Lecturer in Business Neil Fogarty assigned the students in his Con­temporary Skills for Business Profes­sionals class the challenge of collect­ing pet food for the Beaver County Humane Society.
The class exceeded its goal by col­lecting more than twice the number of cans than the previous year's class.
The class collected a whopping 7,902 cans of pet food, compared to 3,551 last year.
The students had two weeks to collect as many cans as they could. The class of 38 students was divided up into seven teams.
Fogarty said that the goal for the class was the same as last year, and that the class was extremely moti­vated from the start.
"Both years they had the same goal: to collect as many cans as they could. They collected so many because they became exceptionally motivated to help the needy dogs and cats," said Fogarty.
Fogarty also noted that the com­petition between the team helped motivate the students.
"As teams started getting cans and reporting tentative numbers, it became competitive," said Fogarty.
According to a post on the Beaver County Humane Society's Facebook page, the society's staff is very appre­ciative of the efforts that were made by Fogarty and his students.
"You have filled our hearts and our animals' bellies with love that will last a long, long time," the Facebook post says.
Mike Romigh, sponsorship, events and social media manager of the Bea­ver County Humane Society, said that it was a tremendous effort on the part of the students.
"Donations of food impact our shelter greatly," Romigh said. "For example, this morning we have 132 cats and kittens in our care. So if we feed them 1 can per day, we go through 132 cans per day , 932 per week."
People who want to donate to the Humane Society can refer to their wish list at beavercountyhumanesociety.org/our-wish-list.