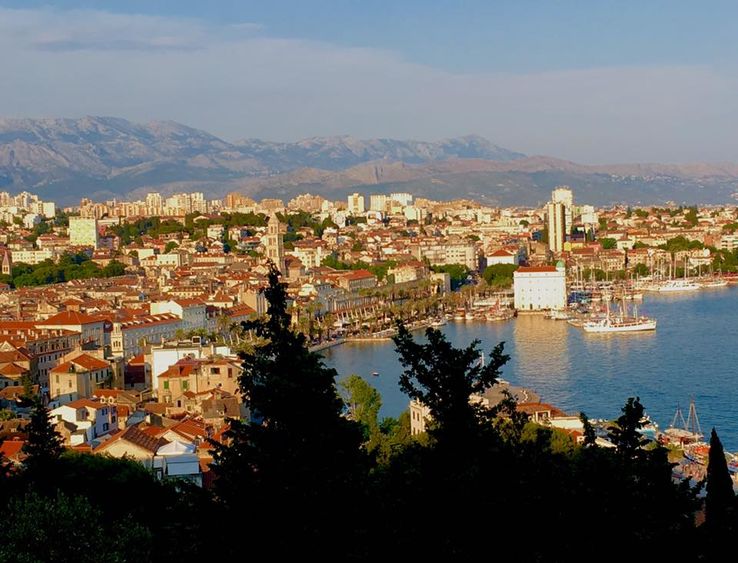 MONACA, Pa. — When Penn State Beaver communications major Alexa Di Pietrantonio landed in Vienna last January for a semester abroad, it wasn't her first time in Europe.
It wasn't even her first time in Austria. She'd visited the country three times with her family and stayed there with friends for a year when she was in seventh grade.
So she was ready to embrace all that immersing yourself in another culture has to offer. In Austria, that meant hiking through picturesque, snow-topped landscapes; sitting through weeks of intensive German language classes; waltzing to a live orchestra at a palace ball; landing an international internship with Pfizer; and eating … so much eating.
But not every student is as experienced, or as adventurous, as Di Pietrantonio.
Many students at the Penn State Beaver campus skip international travel and forgo study abroad opportunities due to finances, personal circumstances or fear. For those students, incorporating a global component into their college experience isn't always practical, or even possible.
But Beaver Chancellor Jenifer Cushman is out to change that with the EDGE program.
EDGE — Experiential Digital Global Engagement — connects Penn State Beaver classes with classes around the world through the use of technology.
Known as "virtual international exchange" and modeled on the State University of New York's renowned Collaborative Online International Learning (COIL) program, EDGE affords its participants the opportunity for global thinking and collaboration, particularly among place-bound and less-resourced students, which many students at Beaver are.
EDGE grew out of a yearlong strategic visioning process that Cushman instituted when she arrived at Beaver in the summer of 2016. A series of campus and community work groups and surveys identified transformative academic experiences and high-impact practices as imperative to cultivating a diverse and inclusive environment and preparing students for the 21st century workforce.
And the 21st century workforce is global.
According to the United Nations, about 6,000 multinational companies existed in the 1970s; today that number tops 70,000. And the Department of Labor estimates that 1 in 5 jobs is tied to international trade.
"As someone with a background in international education, I think it is so important for our faculty and students to establish these kinds of global relationships, particularly in our increasingly interconnected world," Cushman said.
Kicking off the collaboration
With support from the Penn State Global Programs Collaboration Development Fund, EDGE officially kicked off in June 2017 when professors from the University of Split in Croatia traveled to the U.S. for a global learning workshop and continued in July when Cushman, Information Sciences and Technology Instructor Ashu Kumar and Chemistry Instructor Claudia Tanaskovic arrived in Split for their first look at the southern coast of Croatia.
"It's a beautiful place," said Tanaskovic, who was born and raised in Romania and has traveled extensively throughout the world. "It took my breath away."
Tanaskovic will be the first faculty member at Beaver to collaborate with a classroom in another country via EDGE. Come spring 2018, her Chemistry 213 students will merge with an organic chemistry class at the University of Split to analyze, produce and package lavender essence soap.
"It's a good project," Tanaskovic said. "Soap makes sense — it's a touchable, everyday product. And Split is known for lavender essence."
The classes will work separately at the start of the semester in order to learn four specific techniques necessary to conduct their experiment. They'll then come together — in real time — via web conferencing technology to complete their project.
There's even talk of involving art classes at each university to develop packaging for the soap, so the experiment could expand to encompass science and business.
"Our students get to learn about chemistry and industry in Split and those students get to learn about chemistry and industry in Beaver County," Cushman said.
But perhaps the most profound learning experience will be had outside the classroom, according to Tanaskovic and Kumar. They should know. Tanaskovic was raised in Eastern Europe under a communist regime and has lived in the U.S. for most of her adulthood. Kumar grew up and began his career in India before moving to the U.S. They know well the differences and disparities across cultures.
"Our students will be amazed at the differences in the education and in the culture," Tanaskovic said.
Some of those differences are simple. In Eastern Europe, for example, chemistry classes begin in earnest in middle school, while many of Tanaskovic's students at Beaver don't take an advanced chemistry class until college. And in the U.S., textbooks read like lectures and include worksheets and practice tests. Not so in Eastern Europe, where textbooks are often dense, difficult slogs.
But some of the distinctions between Split and Beaver County will be more pronounced: language, geography and the remnants of communism.
"Our kids may be able to see some of those leftover differences," Tanaskovic said.
Kumar believes getting the students to connect away from the classroom is key to increasing cultural exposure and understanding. He envisions using chat groups, social media and smartphones to make connections.
"How cool would it be to have a student in Harmony Hall texting or FaceTiming with a dorm room in Split about what they're going to present tomorrow?" he asked.
Looking ahead
The State University of New York first developed the COIL program in 2004 in order to develop more courses with an international dimension. Today, COIL has a network of campus partners across New York, houses an Institute for Globally Networked Learning in the Humanities, and hosts an annual international conference.
Cushman sees similar opportunities for EDGE. Already, relationships with the Hague University of Applied Sciences in the Netherlands and the Catholic University of Lille in France are emerging. Faculty members across Penn State campuses in the Pittsburgh region will travel the next three summers to both universities with the support of a Penn State Transformative Travel Grant.
And Cushman recently spent several weeks in France as part of the Fulbright International Education Administrators Program, identifying and visiting other institutions that may wish to collaborate in the future.
Those collaborations may soon expand to include short-term study abroad opportunities, so that students who have worked together via technology can meet in person and explore each other's culture firsthand.
And Cushman believes engaging the business and information sciences and technology programs at Beaver are obvious next steps for the EDGE program.
Kumar agrees.
"In the tech industry, people are already working together," he said. "Tech is invasive; it's already being used to connect people. The challenge is the culture. We need to give our students new perspectives and opportunities for collaboration."
Contact
April Johnston
Public Relations Director, Penn State Beaver