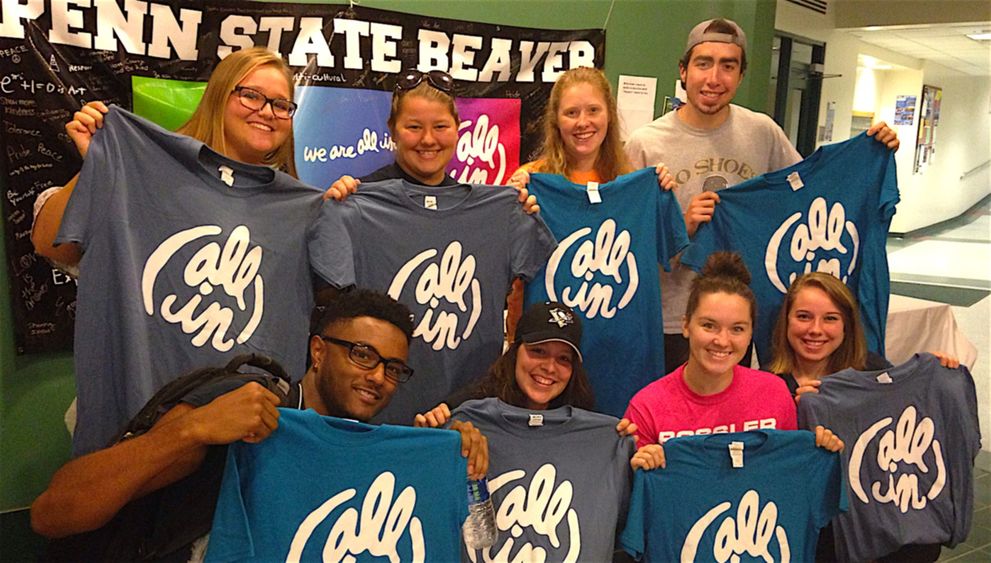 Your mistakes don't define you.
Be open to change.
Be yourself.
Celebrate peace and tolerance.
Love is the answer.
Those are just a few of the messages Penn State Beaver students left on an 8-foot banner in the Bistro this week to celebrate a University-wide diversity and inclusivity initiative.
The official launch of the initiative kicked off on the evening of Thursday, Oct. 6, with an event livestreamed from University Park and projected onto a screen on the Brodhead Bistro stage. Nearly 100 Beaver students and staff turned out to watch "All In at Penn State: A Commitment to Diversity and Inclusion," which recognized the importance of diversity and having an environment that is inclusive and respectful. Among the speakers were President Eric Barron, Vice Provost for Educational Equity at Penn State Marcus Whitehurst and, most compellingly, University Park student Brooke Jin.
Jin spoke about how her initial excitement to attend Penn State quickly fizzled as she arrived on campus and experienced feelings of exclusion. She said that coming together as a community and supporting one another starts with the individual, and she urged student to keep pushing for a better, more inclusive community.
"We are making great strides to bring this community together, and although we may not see the results right away, we are gradually moving toward a vision of inclusion," Jin said.
As the University Park event unfolded on the screen, in the Bistro, Beaver students — their newly acquired "All in" T-shirts draped over their shoulders — ate, chatted and even broke into a spontaneous "We are."
"I want students to understand this is just the beginning," Student Affairs Director Chris Rizzo said. "We are going to carry this feeling and brand on in other events on campus."
Those events include National Coming Out Week in October, Martin Luther King Jr. Day in January, Black History Month in February, and more.
And the banner students created will remain on display throughout the semester, projecting positivity and reminding the community of its mission.
We are all in this together.