A CNC router is the latest piece added to the campus Maker Lab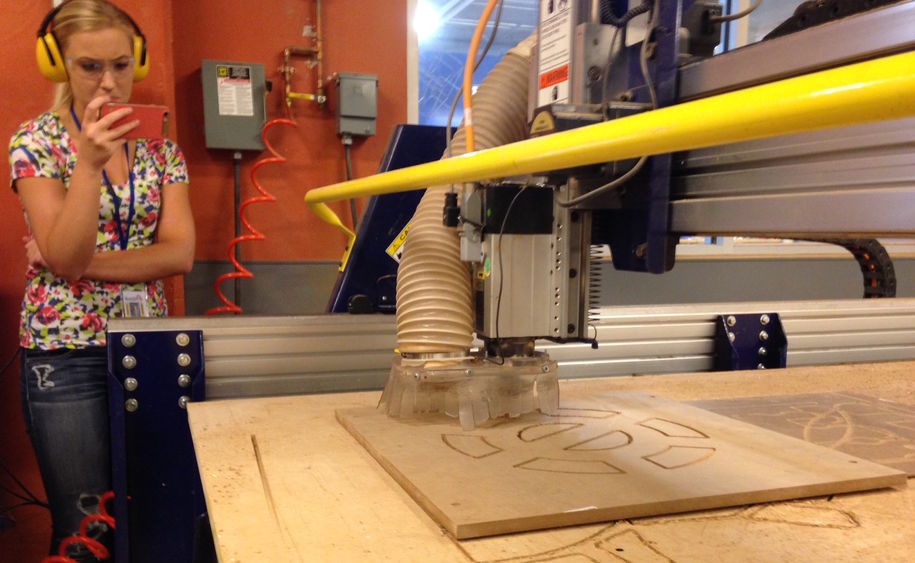 MONACA, Pa. — Sophomore engineering students Nicole Chemini and Leah Berry both needed an honors class to round out their fall schedules. So they perused the list of available classes and were about to sign up for one when Penn State Beaver Senior Engineering Instructor Jim Hendrickson pulled them aside.
"I'd check with your statics and thermo instructor before you register," he suggested. "I think you'll find a much better honors option."
The women smiled in confusion. Hendrickson was their statics and thermo instructor. What did he have in mind? With Hendrickson, you can never be quite sure. After all, this was the instructor who for years had been slowly, and semi-secretly, amassing the essential pieces of a campus Maker Lab.
To their delight, the option Hendrickson suggested involved that very Maker Lab, which had finally become reality thanks to the addition of a CNC router — or the ShopBot Buddy – a computer-controlled machine that cuts wood, plastic and metal.
"You're going to own the ShopBot," Hendrickson told them.
Chemini and Berry were thrilled. They immediately agreed to enroll in the independent study and reign over the Maker Lab, but even in their excitement, they didn't fully grasp the weight of Hendrickson's offer.
The ShopBot Buddy is a $12,000 piece of equipment capable of taking the flat drawings and computer-aided models students create in their freshman engineering classes and actually producing them, and then exactly reproducing them.
Because of the expense and expertise needed to operate one, CNC Routers are not standard equipment for engineering schools. But now, Chemini and Berry were going to "own" one.
"Imagine walking into a job interview and saying that," Hendrickson said.
But, before they could own it, they'd have to learn to operate it.
For Chemini and Berry, that meant one thing: field trip!
---
TechShop Pittsburgh is a community-based workshop and prototyping studio that anyone can join and use (once they receive proper training on the equipment, of course.) A membership offers access to tools that are often difficult to find and nearly impossible for most makers to afford, including an oversized powder coating oven, multiple 3D printers, and three CNC routers.
"You can make anything you want here," said TechShop Pittsburgh General Manager Bill Gearhart during a tour of the 16,000-square-foot facility. "You haven't even seen the cool stuff yet."
For the record, the coolest of the cool stuff is a $300,000 water jet cutter than can slice through several inches of steel or granite using just water pressure and garnet dust.
But Hendrickson, Chemini and Berry had hunkered down in the woodworking shop, where the professor was giving the students a lesson on the proper handling of their "Buddy."
It works like this: Makers use engineering software to create a 3D model. In this case, Chemini and Berry designed a sign — shaped like a gear — for the Michael Baker Building Maker Lab. Hendrickson opened their design on the router's computer and assigned the proper degrees and depths. He screwed a piece of wood flat on the router's table-like "spoil board." Then he set the router in motion, and it sliced into the wood below, following the computer's instruction.
It's difficult to comprehend just how precise and nimble the machine is without seeing it for yourself. Yes, it's loud and creates a lot of sawdust, but Chemini and Berry were so impressed that they whipped out their smartphones and took videos.
"I'm so excited to just have the gear in our hands," Chemini said as the router cut the 48 teeth in their gear design.
That is the goal of the CNC router — to make something tangible from what was once only a drawing on a computer screen; to hold your design in your hands.
It's what Chemini and Berry will spend their semester doing, over and over. This semester, Hendrickson's Engineering Design 100 students will be sending their plans for a perfected folding chair to the pair for production.
"I can already sense more excitement in E Design 100 this year because we can show them the parts they're creating," Hendrickson said. "Last year they just had to believe me."
Chemini and Berry's Buddy should be operational by the end of the month. They can't wait to get their hands on it, so much so that they're already lamenting the day they have to leave it.
"I'm sure once we go to Behrend, we're going to miss it," Berry said.
"We'll come back on weekends to visit it," Chemini said.
The Engineering Technology and Commonwealth Engineering Program Enhancement Grant, Eaton, 1991 Penn State alumnus John Wiedmann, and Penn State Beaver's Academic Affairs office funded the CNC router.
Contact
April Johnston
Public Relations Director, Penn State Beaver