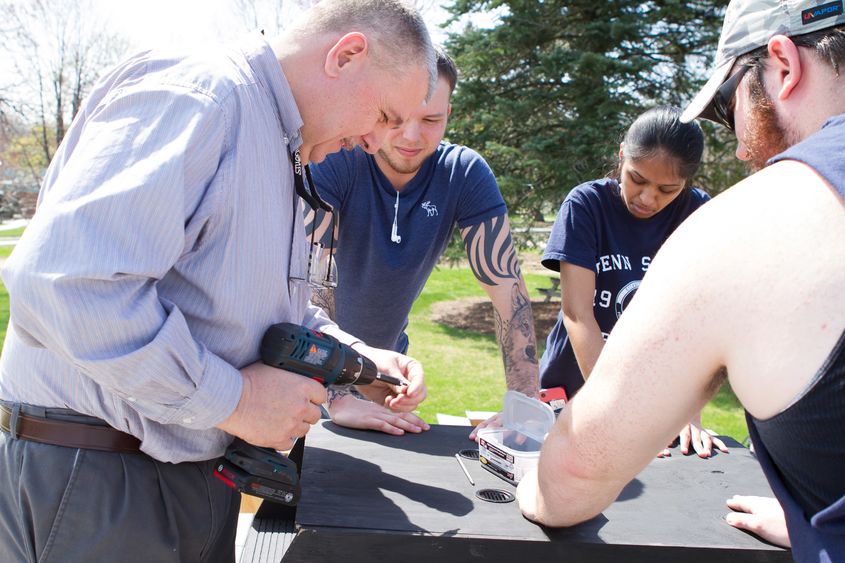 MONACA, Pa. — A few years back, Jim Hendrickson, a Penn State Beaver senior engineering instructor, procured for his students a cyclonic dust collection system — a machine that pulls wood chips and particles out of the air, runs them through a funnel and deposits them safely into a basin below. Perfect for those who do a lot of woodworking.
Hendrickson's students were a bit perplexed. What did they need with a dust collection system?

You're planning something, they alleged.

Just as they suspected, that dust collector was one small piece of a Hendrickson master plan. He has been slowly collecting parts that will eventually make up a small machine shop in the renovated Michael Baker Building: drill press, band saw, work benches.

Now, thanks to a University grant, an appropriation from Beaver's Office of Academic Affairs and the generosity of two donors, Hendrickson will get the piece de resistance of his collection — a CNC router system that will allow his students to bring their ideas to life.

A CNC (computer numeric control) router is a computer-controlled machine that cuts wood, plastic and metal. So all of those flat drawings and computer-aided models the students have created in class can actually be produced, and then exactly reproduced.

"Every engineering program has the same (challenge)," Hendrickson said. "How do you go from model to actually building something? That's not a small step."

The router will allow his students to take that leap.

The Engineering Technology and Commonwealth Engineering Program Enhancement Grant that funded $5,000 of the router's nearly $12,000 price tag (the remainder came from Eaton, 1991 Penn State alum John Wiedmann and academic affairs) is meant to enhance engineering labs and expose students to applied experiences.

Hendrickson's students are already pretty familiar with applied experiences. In the Engineering Design 100 class, co-taught by Hendrickson and Computer Science and Engineering Instructor Sherry Kratsas, students are paired with real-world clients and tasked with solving real-world problems.

This semester, for example, one group of students is working with the Pine Run Fire Department to upgrade its signage. Right now, their design lives on a computer screen. But a CNC router could carve the creation into wood.

Since the equipment is not yet available at Beaver, Hendrickson is planning to take the students to TechShop Pittsburgh, a community-based workshop and prototyping studio located in East Liberty. Hendrickson is a member and frequent visitor, which means he has access to 16,000 square feet of space and world-class tools, including machines not even available at University Park. He's going to show students how a CNC router works and produce a prototype of their design.

The downside? To be able to use the space, students need to take classes and pay for a membership or day pass.

That's why having a CNC router on campus is so valuable. No longer will students have to rely on Hendrickson's TechShop connections or score "a group member whose uncle has a saw mill."

"They will be the producers," Hendrickson said.

The CNC router should arrive on campus and be installed in the Michael Baker Building's first-floor prototyping room this summer, along with the rest of Hendrickson's collection.

Hendrickson took a look around his Laboratory Classroom Building office, cluttered with tools and boxes, and grinned.

"I hope (the room) has shelves," he said.

For more information on Penn State Beaver's engineering program, please contact the admissions office by emailing [email protected] or calling 1-877-JOIN-PSU.
Contact
April Johnston
Public Relations Director, Penn State Beaver