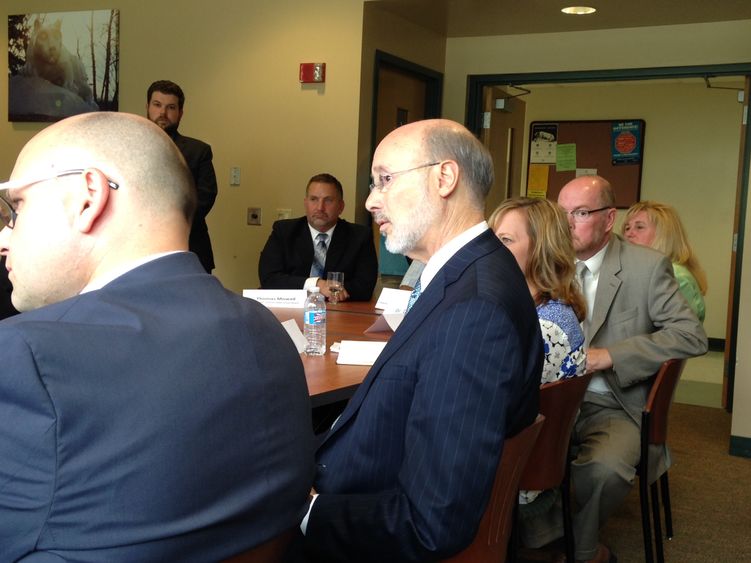 Game changer. If you ask Gov. Tom Wolf, it's one of the most overused phrases in the English language. But it could be fitting for what a multi-billion-dollar ethane cracker plant Shell Chemicals plans to build in Beaver County could do for the region.

"The cracker plant has the potential to transform the region and the entire commonwealth," Wolf said.

The governor was on Penn State Beaver's campus – just miles from the plant's eventual location – to meet with area government, education and business leaders about the opportunities and challenges presented by the plant's arrival.

Shell expects to begin building in 2017 and employ more than 6,000 construction workers in the process. After completion, the plant will likely house 600 permanent workers and generate thousands more jobs in related industries.

Though Beaver County officials recognize the potential, they have some immediate concerns about workforce and education, which they voiced to Wolf during the hour-long round table.

"With or without Shell, we have an aging demographic," said Jack Manning, president of the Beaver County Chamber of Commerce. "We're expected to lose 50 to 80 percent of our workforce. We just don't have enough people in the pipeline."

Such demand makes the education, and re-education, of the workforce critical.

"Education is imperative to any region's growth and development, but particularly to one that is expected to encounter so much change," said Penn State Beaver Chancellor Jenifer Cushman.
Beaver will offer a four-year project and supply chain management degree in the fall and workforce training and development programs through its Office of Continuing Education. Both are expected to be coveted programs in the wake of an expected manufacturing boom.

Rebecca Matsco, chair of the Potter Township Board of Supervisors, also voiced concern about the physical attributes of the area. She urged the governor to provide the county with help in the form of land use and infrastructure planning, which will be needed well ahead of Shell's arrival.

But she also pointed out that, although the plant will present logistical challenges, it has also allowed for a kind of collaboration that she has never seen in the region, particularly among townships and school districts.

"We have seen barriers breaking down, a willingness to reach across boundaries that we thought would always be there," Matsco said.

Wolf has tasked his Pittsburgh office with gathering more information about Beaver County's needs and is considering a government task force to help with officials' more immediate concerns.

But, as Beaver County developer Chuck Betters pointed out several times on Thursday, "These are all good problems to have."
Contact
April Johnston
Public Relations Director, Penn State Beaver