Other Penn State locations to begin allowing scheduling of move out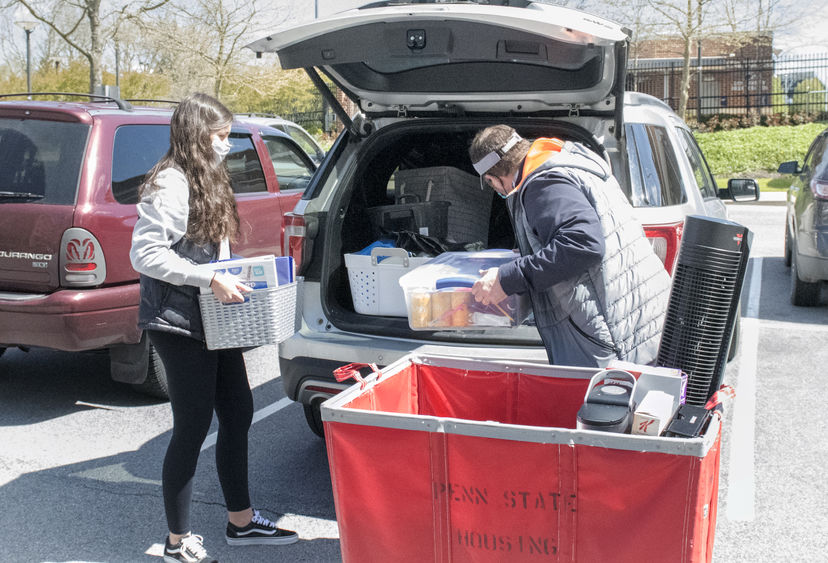 UNIVERSITY PARK, Pa. — With Pennsylvania Gov. Tom Wolf's announcement today (May 22) of additional counties moving to yellow phase over the next two weeks, students residing in those counties can now begin scheduling a move-out date from their on-campus residence halls.
Wolf announced the easing of restrictions in eight counties — Dauphin, Franklin, Huntingdon, Lebanon, Luzerne, Monroe, Pike and Schuylkill — starting on May 29. The remaining red counties — Berks, Bucks, Chester, Delaware, Lackawanna, Lancaster, Lehigh, Northampton, Montgomery and Philadelphia — are expected to transition to yellow by June 5, according to the governor's press release.
Currently, students at Altoona, Beaver, Behrend, Greater Allegheny and University Park campuses may schedule a move-out date.
Beginning May 29, the Harrisburg, Hazleton, Mont Alto and Schuylkill campuses will open for move out.
On June 5, Abington, Berks and Brandywine campuses plan to open for move out.
Eligible students will also be sent an email inviting them to schedule a move-out date for their campus. Students will choose a two-hour window to return to their residence hall and collect their belongings. Students should be accompanied by no more than one additional individual to help with moving, and roommates are required to coordinate their move-out times so that they are at least seven days apart.
In order to maintain social distancing, a limited number of students are being permitted to return to their campus each day through June 14.
Only students who reside in areas in Pennsylvania or elsewhere where travel restrictions have eased are permitted to return to campus for a scheduled move out. As restrictions are loosened in areas outside of Pennsylvania, the University will contact out-of-state students with move-out updates.
During the move-out period, a maximum of four students will be permitted in most residence halls at any given point, with smaller residence halls maintaining a maximum of two students at any point. Key card access will not work for students who attempt to return early or stay past their assigned time slots.
While on campus, students and those helping them must wear face masks and practice social distancing from other parties at all times. Campus staff members wearing protective gear will be sanitizing carts and high-touch areas, such as doors and elevators, before and after each time slot. Students and guests who have had COVID-19 or have been exposed to the disease cannot return to campus until they have completed their 14-day self-quarantine period and have no further symptoms. Further, individuals with a temperature of 100.4 or above are not allowed to participate in move-out activities.
As students return to their campus to collect their belongings, they are reminded that most Penn State offices and services remain closed.
More information about move out can be found online at https://hfs.psu.edu/spring-housing-move-out-faqs. The latest information about Penn State's response to the coronavirus can be found at https://virusinfo.psu.edu/.