University Libraries builds partnerships with academic libraries across the world to benefit students, faculty and staff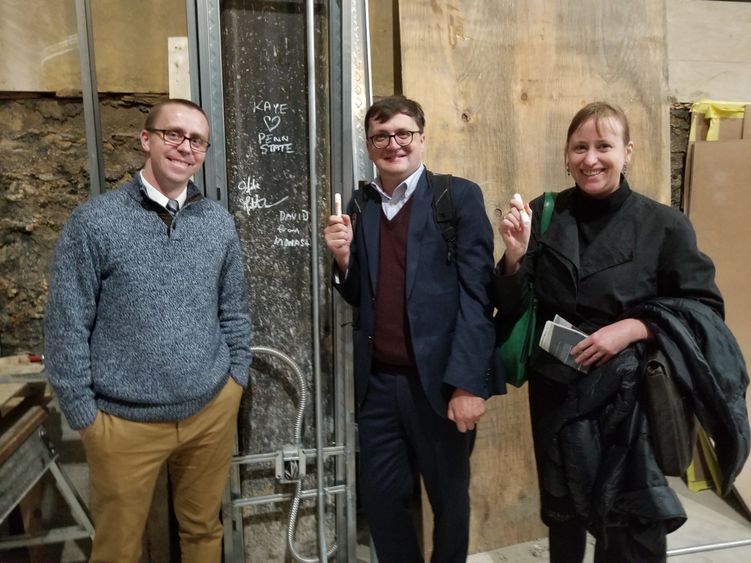 UNIVERSITY PARK, Pa. — When Mark Mattson was hired into a new role at Penn State University Libraries in 2016, he wasn't sure exactly what his position would entail. Three years later, he has found that others often ask the same question he asked himself back then: What is a global partnerships and outreach librarian?
"When people think 'librarian,' they may think of someone who's selecting books for purchase, doing instruction or providing reference services — and those are important roles that librarians play in academic libraries," said Mattson. "But there are other roles librarians serve, and that surprises people."
In his office on a rainy day — flanked by a stack of books called "The Rare Collections" on one side, and a wall with six clocks, all showing the time at Penn State's worldwide "sister libraries," on the other — Mattson explains his work and the centrality of the University Libraries.
"I am not sure that people realize how deeply involved academic libraries actually are in all aspects of university and local community life," he explained. "We're a central hub for students, faculty and staff alike. We are present on each Penn State campus and work with every college and many of the administrative offices throughout the institution."
This central status in Penn State's community puts the University Libraries in a unique position to do many things. One of these is global outreach, which is where Mattson comes in. His position was the brainchild of Dean of University Libraries and Scholarly Communications Barbara I. Dewey and Christine Avery, senior director of Commonwealth Campus Libraries and strategic projects. They worked with then-Vice Provost for Global Programs Michael Adewumi to create the position.
"The University Libraries is committed to advancing the University's strategic objectives in a manner that capitalizes on the Libraries' strengths as well as its position at the heart of the University," said Dewey.
One of these strategic objectives, as laid out in Penn State's Strategic Plan, is "Enhancing Global Engagement." Through Mattson's work, Penn State has created a network of six "sister libraries" from among the University's Global Engagement Network strategic partners in Croatia, Germany, South Africa, Australia, Peru and South Korea. Mattson has visited all six partners personally, having recently returned from Peru, and it is his goal to facilitate engagement and mobility within each of the partnerships and among all University Libraries faculty and staff.
"Mark's depth of knowledge about the broad internationalization activities taking place across the entire University has been tremendously valuable in promoting and furthering Penn State's global engagement objectives," said Jennifer Theiss, senior assistant director of special initiatives in Global Programs.
"We are excited to contribute to the realization of the University's global engagement goals by supporting existing global partnerships, programs and services, and building new ones," added Dewey.
A three-tiered system
Mattson sees the global partnerships work of the Libraries in a three-tiered, interconnected system — benefit for the work of the Libraries; support for the larger Global Engagement Network's partnerships; and international librarianship as a discipline.
For the first tier, Mattson said, initial site visits are crucial.
"I'm always looking for areas of commonality, but maybe even more so, areas of great difference," Mattson said. "Because that's many times where the best learning comes from. Some libraries have systems in place that we would never have dreamed of, and they're effective systems. As partners, we're able to learn from each other and use some of these ideas in our respective libraries."
For example, library representatives from the University of Split in Croatia visited the libraries at Penn State Beaver and University Park to get an idea of Penn State University Libraries instruction practices.
"Just like Penn State is one university, geographically dispersed, we are one University Libraries, geographically dispersed," said Mattson. "The Libraries works across all Penn State campuses in our global efforts. Because I am a department of one, it is the commitment and engagement of my colleagues that has allowed us to succeed in our global engagement goals."
The visit to Penn State Beaver and the campus library was the result of earlier partnership activities, with the establishment of a small University of Split–Penn State working group, and a collaborative workshop held at Split where Penn State librarians were involved. Currently, the two universities are working out a way to have a fee-free electronic resource interlibrary loan system — something unusual in international library collaboration and highly beneficial to both universities' faculty and students.
This leads to the second tier: university-level partnership support. Penn State's six sister libraries all have something in common — they are each members of Penn State's Global Engagement Network. The University Libraries plays a role in building those University-wide relationships, and in creating connections among Penn State faculty.
"I've found a lot of my position is coordination and facilitation," said Mattson. "Being part of this central hub, I talk to a lot of folks. Many times I'll talk to someone and I'll say, 'Oh, did you know this person in the College of Engineering is doing very similar work? You should connect.' Or 'I have a contact at Split who would be really interested in helping with your project.'"
Mattson's work in partnership-building, inevitably, means that he works closely with offices on campus such as Global Programs.
"Mark is not only very well connected with our international partners through the University Libraries, but he has built a very strong network in support of our overall Global Programs effort. I always make sure to include Mark in partnership discussions," said Alexandra Persiko, strategic initiatives coordinator.
The third tier — international librarianship — connects with Mattson's research agenda. As with some other universities, librarians at Penn State are members of the faculty.
Through his research, Mattson discovered that Penn State has been involved in international librarianship since at least the 1970s, and likely earlier. Back then, the University had a library partnership with the Escuela de Administracion de Negocios para Graduados, also known as ESAN University, in Lima, Peru. This partnership ran through at least the 1980s.
"My position is new, but Penn State's global reach in libraries is not," Mattson said. "I'm just trying to continue the legacy and bring together some of the existing energy here."
Fostering innovation and outreach
Beyond global engagement, the University Libraries has created multiple new and innovative positions, such as the entrepreneurship librarian and student engagement librarian positions, which also align with the University's strategic goals.
"Even fellow librarians, when I tell them about this position, give me a confused look," he said. "Penn State University Libraries is unique in creating a position of this scope and level of commitment to global engagement initiatives. It's a testament to our forward-thinking leadership, both in the Libraries administration and in the Penn State administration, that they saw value in experimenting with the creation of this position and other new and innovative positions."
The University Libraries has facilitated faculty connections, worked with international student groups to create a series of film nights and hosted multiple international speakers. Mattson is constantly looking at ways to make international students feel more welcome, including small things like a digital sign and poster that say, "We are a place for everyone" in multiple languages and made available for display at each University Libraries location. The Libraries also is a key partner in the creation of a new, undergraduate on-campus special living option, the Global Engagement Community.
"Mark has been very innovative and prolific in his outreach activities," said Brian Brubaker, director of education abroad in Global Programs.
"It's really hard to explain everything that we do here, because the Libraries does so much," said Mattson.
If there's one takeaway from all of this, Mattson said, it's that the field of librarianship — and libraries themselves — plays a strategically vital role at Penn State.
"I always tell people, if you need something, come to the Libraries first," he said. "It's likely that we can help you, and even if we can't, we can probably connect you with someone who can."
For more information on the global engagement activities of Penn State University Libraries or how the libraries may be able to support your global engagement work, contact Mattson at [email protected].