Volleyball campers get guest coach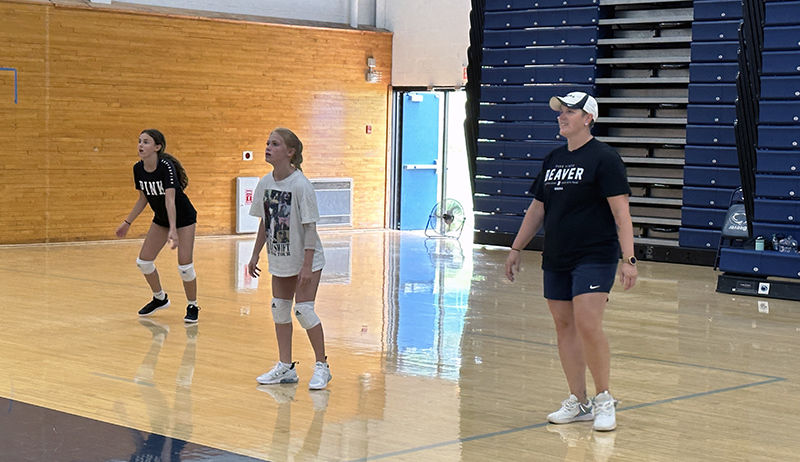 MONACA, Pa. — Every summer the gymnasium and athletic fields at Penn State Beaver are full of youth improving their skills or trying out a new sport.
 
Summer sports camps are run by the Penn State Beaver coaches and student athletes. Over the years camps for baseball, softball, basketball, soccer, volleyball and fitness have helped thousands of student athletes learn about teamwork, competition and fitness while they improve their technical skills and gain self-confidence.
 
While all the camps remain popular, volleyball has seen a lot of growth over the years. Penn State Beaver Athletic Director Andy Kirschner said the camp has nearly doubled in size from around 30 student athletes to 60 in the age 8-to-13 age bracket this summer. There were 35 students in the high school volleyball camp this summer.
 
The age 8-to-13 campers had the benefit of a special guest coach this summer, BJ Bertges. 
 
Bertges, formerly the assistant athletic director and volleyball coach at Penn State Beaver, is now the chief operating officer for the United States Collegiate Athletic Association. Bertges took the role of director of championships and development at the USCAA in 2019 and was promoted to COO in July of 2021.
 
Penn State Beaver is currently searching for a new women's volleyball coach, which left a gap for the camp. Kirschner reached out to Bertges for suggestions about the summer camp; he and Coordinator of Athletic Programs Vanessa Jackson had camp plans from previous years.
 
After some discussion and realizing the camp could fit into her schedule, Bertges offered to be a camp coach this summer.
 
The camp caters to students of all experience levels, whether the camper is new to a sport or has been a part of a team for years. Bertges said every camp starts with a review of the basics, regardless of a camper's skill level, and then goes from there. 
 
Bertges said she was excited to return to campus. 
 
"This is my home," she said, adding that Kirschner was a mentor to her during her time at Penn State Beaver, and she was happy to be able to help.
 
The decision to leave Penn State Beaver in 2019 was a difficult one, Bertges said, adding that her choice to leave was about branching out for a new career opportunity. 
 
"I feel like I owe so much of my career progress to the mentorship of Andy," Bertges said.
 
"We are lucky to have BJ coming back in terms of how she's helping us with her skill and expertise," Kirschner said. "She has helped to build this camp to the success it is today. With her experience coaching volleyball, she was an excellent addition this summer."
 
Information on all of Penn State Beaver's summer sports camps can be found at the sports camps website.