After being named Penn State's 19th president, Neeli Bendapudi embarked on a statewide tour of the University's Commonwealth Campuses throughout the spring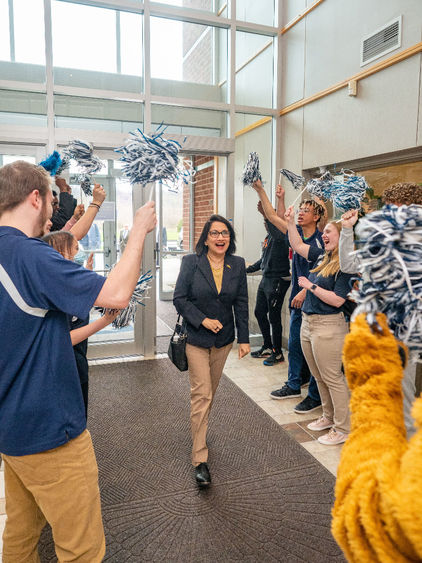 UNIVERSITY PARK, Pa. — Even before taking the reins as Penn State's 19th president this month, Neeli Bendapudi spent much of the spring traveling across the commonwealth on her listening tour of the University's campuses.
Bendapudi said the listening tour provided her with a stronger sense of Penn State's land-grant mission and the campuses as engines of economic development in their regions. "If you think about the land-grant mission and the promise of social mobility, the campuses show that in true color," she said. "It's palpable when you're on the various campuses — the access, the affordability, the promise."
The president added that seeing many of the campuses up close helped demonstrate to her the impact the Commonwealth Campuses have on the economies of their local communities and the surrounding regions, ranging from educating and keeping local talent at home, to promoting and supporting entrepreneurship and innovation through Invent Penn State's free statewide LaunchBox and Innovation Hub Network.
"I always knew the campuses mattered to the communities, but it was so gratifying to see the advisory boards, the donors, the local government representatives show up and exhibit the pride they have in their campuses," she said.
Bendapudi also remarked about the close-knit nature of each campus. "You can see the sense of community at these campuses," she said. "The students talked about the support they get from the faculty and staff, they really know one another. Chancellors talked about the relationships they've built where they check on the students, but it's not just how they are doing in the classroom, but how they are doing with the pressures of COVID, what's happening with their families and so on."
Bendapudi kicked off her campus listening tour in March — which included a visit to Penn State Health in Hershey — and spent time at each location meeting with campus chancellors, students, faculty, staff and community members in town-hall style settings with open Q&A.
Kelly Austin, vice president for Commonwealth Campuses, said having Bendapudi visit these locations was not only a great opportunity for her to better understand the campuses, but also for the campuses to let her know what's important to them and to ask questions. The opportunity for two-way dialogue provided a greater appreciation for how each campus serves and supports students and the surrounding community.
The new president was able to visit the majority of the campuses in the spring, and looks forward to resuming and wrapping up her tour in August after students return for the start of fall classes.
"It's been extraordinary — I've really, truly enjoyed this," Bendapudi said. "What has been amazing to me is how different each of the Commonwealth Campuses is. Each is a microcosm and an independent ecosystem. It's been wonderful to see everything, from Penn State Mont Alto and the forestry background and expertise, to engaging with faculty and staff at Penn State Harrisburg and how they are working to keep up with growth and changes happening on their campus."
Cassie Farrelly, director of operations and strategic initiatives at the College of Medicine in Hershey, said of the new president's visit to Penn State Health and Penn State Hershey: "What really came across in each meeting I joined with Dr. Bendapudi is that she genuinely listens and absorbs what you're telling her. And even though she was introduced to probably 200 people, the next day she could remember the name of a student she'd met the day before and went to say 'hello' to the student."
Madison Forbes, a Penn State York student and campus Lion Ambassador who helped give Bendapudi a tour of York, agreed. "I thought that she was truly kind, and she was very enthusiastic to learn about Penn State York. She was highly engaged in the tour and spoke personally to students that we passed on campus."
Forbes added, "She went out of her way to speak to students directly and ask them about their experiences at Penn State York. During the student session, she asked everyone to sit in a circle to facilitate collaboration. She treated students with respect, and she made an effort to connect with every student that she met."
The president said she was impressed to hear of the amazing undergraduate research opportunities available to students during their time at the campuses. Bendapudi recalled two women undergraduates from Penn State Beaver telling her about research they did that helped to show how additional driving lesson requirements are making a difference in reducing driving accidents and deaths among teenagers.
"I try to have time with the students because they are really what we are about," Bendapudi said. "It just gives you goosebumps to spend time with them. They're making the most of their experience. They're so proud to be at Penn State and they're accomplishing so much – both in and out of the classroom – it is remarkable."
The president noted that one of the things that makes the University unique is how students can customize their Penn State experience to their own needs, whether it's starting their academic careers at one Commonwealth Campus and completing their degree in a different location through the 2+2 Plan, or choosing to stay closer to home at one of 20 campuses for all four years while earning their Penn State degree.
Bendapudi said one of the fringe benefits of her listening tour has been experiencing the physical beauty of each Penn State location.
"These campuses are so picturesque — they're so beautiful, like community gems for people to discover and enjoy," she said.