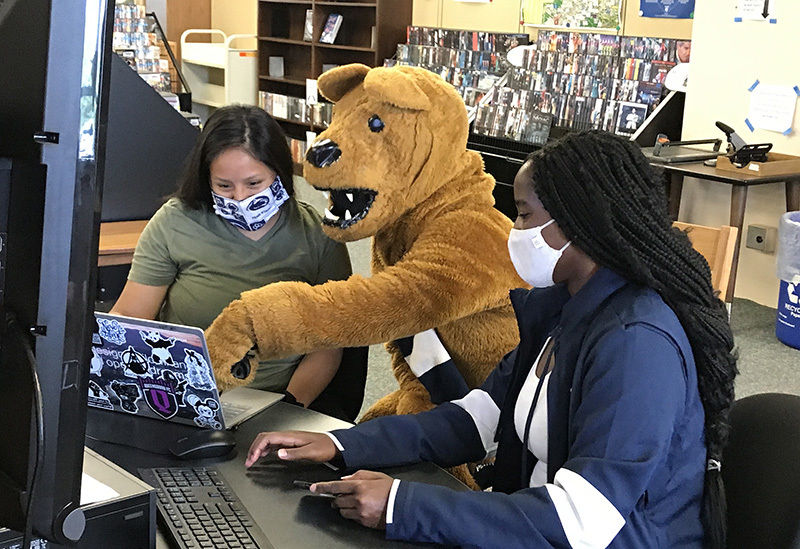 MONACA, Pa. — The Penn State Beaver Library's tailgate implemented COVID-19 safety protocols to provide students with a fun, informative in-person event.
The campus library staff hosted the tailgate party Sept. 17. The event was held outside and inside of the library.
"For the library tailgate, we wanted to give the students a fun approach at the libraries open house," said Frankie Checchio, reference and instruction librarian. "It was a chance to get to know the libraries space, our equipment, workers, and mix it with the excitement of the beginning of football season."
Inside of the library, the staff created a display of Penn State football books and DVDs. There also was a snack table and a technology display. Outside there were lawn games like cornhole and spike ball.
The Student Success Committee participated in the tailgate, and the Student Government Association also participated as part of Constitution Day. The Nittany Lion also made an appearance.
"So that students can learn more about the library, we give them the option to do a library scavenger hunt, that takes them around the library and has them search for different books, rooms and resources," Checchio said. "Anyone who completed this and got all the questions right were put in for a raffle to win different baskets and prizes."
"As for COVID protocols, we made sure that all students were masked in the library and that all the snacks were prepackaged and individually wrapped and could not be eaten in the library," Checchio said.
Initially 73 students signed up to participate in the event, but Checchio said there were closer to 100 students who participated over the three-hour event time.