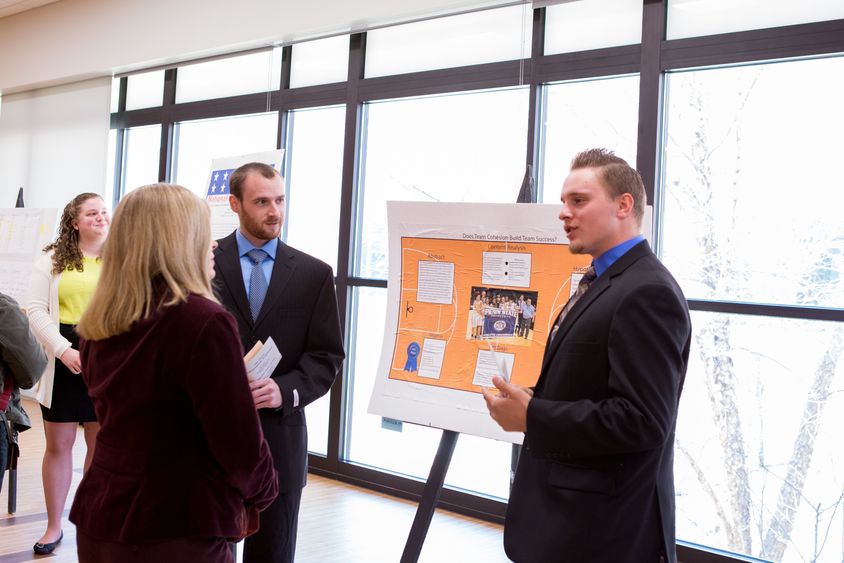 MONACA, Pa. — When you're interested in cognitive psychology, you spend a lot of time thinking about memory.

When you're an undergraduate student in one of the nation's largest university systems, you hear a lot about the negative effects of alcohol and binge drinking.

Penn State Beaver psychology major Kylie Todd decided to put the two together. The result was a research project, called "Alcohol and memory," that might give would-be binge drinkers pause. Thirty-three of Todd's fellow students completed self-report and task-based measures of memory, and those who admitted to binge drinking scored markedly lower.

"It made a lot of them nervous," Todd said.

Because that memory weakness may affect everything from remembering where they put their cells phones to retaining crucial information for a big test.

Todd was one of nearly 40 students to present research, engaged scholarship and creative work at Penn State Beaver's 15th annual Undergraduate Exhibition on Wednesday.

Each student, coached by a faculty mentor, offered an oral or poster presentation of their work, which was then judged by Beaver faculty members. Among the topics: sustainability, safety on campus, coaching styles and chemistry.

This year, there were six entries in the engaged scholarship field, a record for the campus and a sign to the Undergraduate Exhibition Committee of shifting student interests.

"It speaks to the student population," said Irene Wolf, committee chair and senior instructor in philosophy. "They are much more invested when there is purpose and reason."

This year's winners were:

Arts and Humanities
First place — Kate Serna and Haley Goonen for "Hand washing: A public health campaign"
(John Chapin, faculty mentor)

Creative Works
First place — Tyler Suehr for "Chemical (periodic table) with enhanced mobile user interaction"
(Richard Lomotey, faculty mentor)

Engaged Scholarship
First place — Jill Loftus and Andrew Delahanty for "Penn State Beaver Composting"
(Angela Fishman, faculty mentor)

Second place — Madison Becker, Lauren Doyle, Amy Arnold and Adam Espinoza for "Penn State Beaver Alternative Gardening"
(Angela Fishman, faculty mentor)

Oral Presentations
First place — Andrew Wistuk for "Violations during incarceration: A research study on female inmates"
(Mari Pierce, faculty mentor)

Social Science
First place — Rob Trhlin and Matt Sweikowski for "Does better team cohesion result in more success?"
(John Chapin, faculty mentor)

Second place — Jennifer Medarac for "National Felon League? Appropriateness of punishments received by NFL players convicted of crimes"
(Mari Pierce, faculty mentor)

STEM
First place — Randy Meskow, Sam Younes and Brenden Arena for "Synthesis and characterization of a new iron containing POSS monomer"
(Michael Hay, faculty mentor)

For more information on the Undergraduate Exhibition, contact committee chair Irene Wolf at [email protected].
Contact
April Johnston
Public Relations Director, Penn State Beaver