Students now have the opportunity for firsthand study of 3D-printed version of 'Lucy'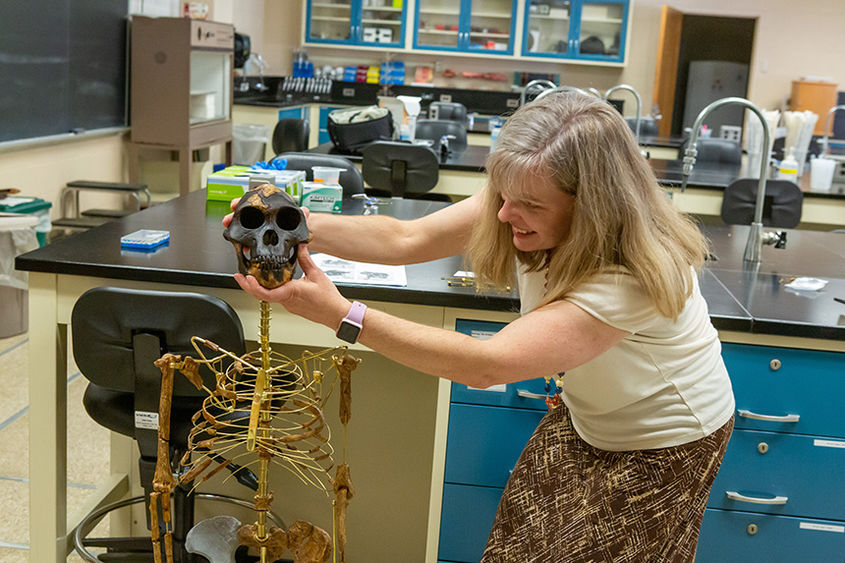 MONACA, Pa. — Students in Cassandra Miller-Butterworth's evolution classes now have a hands-on way to study how the human species developed over millions of years.
Miller-Butterworth, associate professor of biology at Penn State Beaver, received a grant from the Schreyer Institute for Teaching Excellence to purchase a 3-D printed skeleton of the famous "Lucy."
Discovered by paleoanthropologists in 1974 in Africa, the original Lucy was the first fossil of a humanoid to be found and stands at only 4 feet tall. She is approximately 3.6 million years old.
Miller-Butterworth's BIOL 427 class will be the first to study Lucy, who arrived on campus several weeks ago securely packaged with "some assembly required," said Miller-Butterworth, as she unwrapped multiple bones from their layers of bubble wrap.
Miller-Butterworth described Lucy as "one of the world's most famous, awesome fossils that has ever been discovered."
"She was one of the first species we know of that stood upright, walked upright, but still had a really small brain," Miller-Butterworth said.
Lucy gave scientists definitive answers about our early ancestors.
"Before the species was discovered, they didn't know whether a big brain came first, or walking upright," Miller-Butterworth said. "You can look at the structure of the pelvis, and it's very similar to a human pelvis. A chimp pelvis is much more elongated, and from the legs and skull they know [Lucy] walked upright."
The biology department also purchased a 3D skeleton of an early chimpanzee as part of the grant.
While humans share a common ancestor with chimps, we evolved from an ape, Miller-Butterworth explained. About seven million years ago the common ancestor diverged into chimps and humans, with multiple species along the line, she said.
"I think the students having hands-on specimens that they can look at and they can measure out themselves is a much better learning experience than just looking at photographs," Miller-Butterworth said. "So they can actually look at this pelvis right next to that pelvis and look at the difference … Being able to actually see Lucy — she's so small — you can't get that from a photograph."