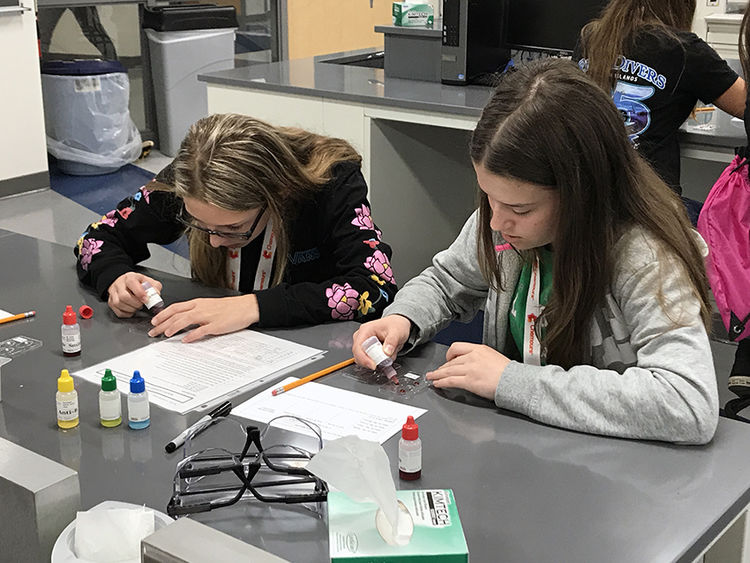 CENTER TOWNSHIP, Pa. — More than 80 seventh-grade girls spent Friday exploring STEM education and careers at the second annual W.I.S.E. UP event at Penn State Beaver.
The event — designed to encourage girls to consider careers in science, technology, engineering and math — was attended by students from Beaver Falls, Central Valley, Ellwood City and Western Beaver.
The students participated in hands-on workshops in the Michael Baker Building on campus. They learned about things like coding, chemical reactions, blood typing and reliable engineering. The students were guided through the activities by Penn State Beaver faculty members Claudia Tanascovic, Sarah Nilson, Cassandra Miller-Butterworth, Angela Fishman and Heather Humphreys.
The day ended with a panel discussion where students heard from women working in STEM careers.
Moderated by Penn State Beaver student Bree Logan, the panel was comprised of Kate Becker, a marketing specialist with Chemours Company; Ally Conn, a permit coordinator/designer, and Caleigh Wanson, a designer, both with SPK Engineering; Heather Michaux, a construction engineer with Shell; and Jacylyn Enders, a senior sales representative with Thermo Fisher Scientific.
Becker and Conn talked about the diversity in job possibilities they have with their degrees. Conn told the girls they will not be "pigeonholed" by a particular degree.
Despite working in STEM fields, the panelists also stressed that good communication skills are also very important.
"Engineering involves a lot of teamwork," Wanson said.
Michaux said being able to quickly problem-solve is also important to her job. She said construction site work is fast paced, and you have to be able to solve problems on the spot.
"It can be a little stressful," she said.
Enders encouraged the girls to work hard and pursue what they want to.
"Don't ever give up … In the end, the harder you had to work for it, the more reward you'll have," she said.
W.I.S.E. UP was sponsored by Shell and WesBanco.