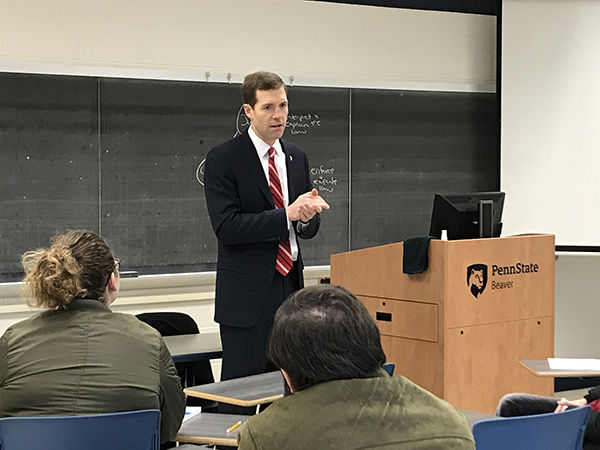 MONACA, Pa. — Students in Jodi Gill's civic and community engagement class had a chance to ask U.S. Rep. Conor Lamb anything they wanted when he visited Penn State Beaver this week.
Lamb, D-Mount Lebanon, spent the day in Beaver County on Feb. 19 visiting various schools before holding a town hall in Baden. He also is preparing to open an office in Center Township.
Lamb gave the class his brief biography and acknowledged Congress is unpopular at this point, and that he recognizes that people are becoming more and more upset with its performance.
Lamb encouraged the students to ask questions.
One student asked if there was anything Lamb was surprised about when he got to Capitol Hill. Lamb said things weren't as contentious as he expected and instead found that lawmakers generally have a good rapport. He said there is a lot of bipartisan lawmaking coming out of the lower levels of Congress.
Lamb talked about the challenges he's faced in working with House leadership. He also was asked about issues related to tax inflation and the minimum wage, and addressed topics such as Medicare, Social Security, and President Donald Trump's emergency declaration to secure funding for a border wall.
Lamb, whose grandfather was a state senator, said he ran for office because he's been dissatisfied with the status quo in Washington, and he wanted a chance to change that.
Lamb said his grandfather was proud to serve the public, and he grew up learning that "politician is not a dirty word."
He stressed the need to find a shared vision and goal for everyone to unite around, figure out the costs and then work toward it.
After leaving Gill's class, Lamb met with a group of campus directors, was given a tour of the campus, and finally met with Assistant Professor of Information Sciences and Technology Richard Lomotey and student Peri Coleman to learn about their work on applications that could have a positive benefit to the community.