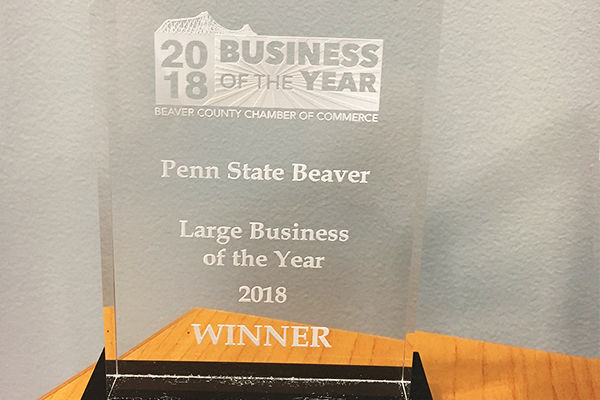 Penn State Beaver has been named Large Business of the Year by the Beaver County Chamber of Commerce.
"Penn State Beaver has made great collaborative efforts to bring innovation and entrepreneurship to the region through their Innovation Hub, as well as their LaunchBox and Bridges and Pathways programs," Matt Dawson, banking center manager of WesBanco and a member of the chamber board, said at the award ceremony Tuesday, Oct. 23.
The annual awards honor outstanding organizations and members of the chamber for their contributions as business people and community leaders.
"As a commonwealth campus, Penn State Beaver enacts the land grant mission of the Pennsylvania State University by serving Beaver County, primarily by providing students access to the excellent Penn State education, but also by turning the expertise of our faculty and students outwards, in service to our region," said Chancellor Jenifer Cushman while accepting the award.
Cushman said the Innovation Hub is an outgrowth of Beaver Valley LaunchBox, which is currently housed in the Chamber of Commerce Building.
"The hub will house co-working spaces, a digital maker space for 3D printers, and other services that will encourage innovative thinking and entrepreneurial endeavors right here in Beaver County," she said.
Other awardees of the night were: Pacer Studios, Small Business of the Year; Peoples Gas, Energy & Advanced Manufacturing Industry of the Year; Renee Suhr of Stray Cat Studio, Entrepreneur of the Year; Alex Sebastian of The Wooden Angel, Citizen of the Year; and Brittney Golden of Millcraft Hospitality Group, Ambassador of the Year.