Trip offers student chance to connect with heritage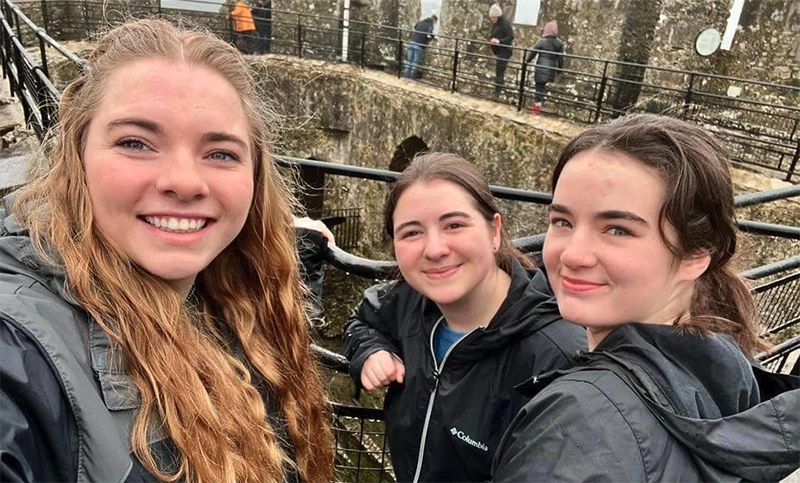 MONACA, Pa. — For Caellin Miller, a spring break trip to Ireland was a special opportunity to learn more about her heritage and visit places she had heard about from her grandmother, who is originally from Ireland.
Miller, a junior at Penn State, said she wanted to go on the trip to learn more about Ireland, so she could experience where her family comes from. 
Miller said the trip was also a chance to step out of her comfort zone. She said she views herself as an introvert and taking the trip helped her have new experiences by going out of the country and getting on a plane for the first time. 
"I already knew about most of the places we were visiting because my great-grandmother is from Ireland, and I wanted to go on this trip to experience these places first-hand," Miller said. "I definitely jumped in the deep-end by getting on the plane because that was my first time flying, and going to another country helped me step out of my comfort zone because I don't usually go out."
Miller said she enjoyed the trip and described it as a wonderful experience. She noticed the cultural differences like different eating times, opposite roadsides and the time zone difference between Pennsylvania and Ireland. 
"Ireland was amazing because of these things," Miller said. 
Tiffany MacQuarrie, associate teaching professor of English at Penn State Beaver and professor in charge of Experiential Digital Global Engagement (EDGE), organized the trip to Ireland for the University's spring break. She said she wanted to focus on students gaining experiences and strengthening their inner culture competencies and communication skills.
EDGE is a project-based international virtual exchange program under Penn State Global which is available to all Penn State campuses.
"There's a whole host of skill sets trying to get students to recognize their place in their world, like their role as a global citizen," MacQuarrie said. "I'm passionate about international education, and I want students to find ways to set themselves apart from others when they're pursuing careers."
This trip focused on educating students of the history of Ireland, along with giving the travelers a fun experience. They were able to visit major cities, monasteries and museums, and they learned the background of each. 
Some of the places the group visited include Dublin, County Offalay, Galway, the Cliffs of Moher and Killarney. 
Michelle Kurtyka, assistant teaching professor of kinesiology and one of the group leaders, enjoyed the trip and said she and the students took away a better understanding of the history of Ireland.
"The trip was amazing, I highly recommend Ireland as a vacation spot because it had history, beauty; it had everything," Kurtyka said. "The best part for me was hearing about the architecture and learning why things were built and learning the history of everything." 
"We were able to travel from city to city by bus with the tour guide/tour group titled 'E.F.' which stands for Education First, and it focused on teaching the history of Ireland. I think students were amazed by that."