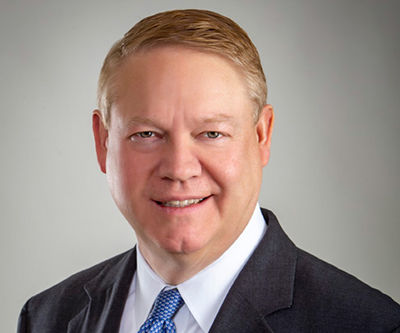 MONACA, Pa. — For Scott Cunningham, there is one thing in particular he remembers from his time as a Penn State Beaver student, and that is the kindness of everyone on campus.
Cunningham, a 1980 graduate of Penn State and the Penn State Beaver 2022 Outstanding Alumnus, said that during his time at the Beaver campus he was shown kindness and given help by everyone from faculty to staff. To him that made all the difference on starting a path to future success.
"I have such appreciation for what the Beaver campus community did and gave to me," Cunningham said. "And I attribute so much of my life's success to my start from the Beaver campus. The faculty and staff back then were so overly generous to really a bunch of scruffy-faced high school kids. None of us were particularly deserving, … but they lavished us with their attention and their encouragement and really tried to make us all better."
Cunningham has served as a member of the Penn State Beaver Advisory Board since 2012 and is the immediate past president. His work on the board has helped to support the fundraising efforts for the endowed scholarships, which benefit high school students from the Beaver County area. He has been an instrumental part of many initiatives, including the campus master plan and student success.
"I'm at the stage of my life now where I want to show my appreciation and give in return," he said.
Cunningham especially remembers several athletic coaches who he said, "really invested in us," including Jim Karwoski, Eldon Price and Bill Meacci.
He said he had a lot of interaction with coaches through baseball and intramural sports. He describes the coaches as "good adult influences who encouraged us to participate and do well. They just kind of looked out for us. Young people just frankly do better when they receive that."
Cunningham said there were also some instructors he described as "great young personalities" who made the students excited to learn.
While at the Beaver campus, Cunningham also met his best friend, Darryl Polzot. "We're still best friends today. You pass through Beaver, and you're changed for a lifetime," he said.
Cunningham graduated with a bachelor of science (with distinction) from Penn State with a major in economics. He also earned a master of science in public policy and management from Carnegie Mellon University, and a juris doctor degree from the University of Pittsburgh School of Law.
After Cunningham went to University Park, he was accepted into the Reserve Officers' Training Corps (ROTC) and went on to serve in the United States Air Force and Air Force Reserve, where he logged a combined 23 years of active and reserve duty. He graduated from the Air War College and retired with the rank of colonel.
Cunningham said he is flattered to be the 2022 Outstanding Alumnus. "My first thought was they must have run out of other candidates," he quipped. "I'm just glad to be a part of the advisory board and to give back."
He said he hopes his story might be an inspiration for others. "Someone might look and say, 'I could get multiple degrees or go to the Air Force,'" he said.
Cunningham is now the chairman and CEO of the Security National Trust Co., headquartered in Wheeling, West Virginia. He was previously executive vice president and regional managing director with PNC Wealth Management in Pittsburgh. Prior to joining PNC, he was a tax consultant with Price Waterhouse and a litigation associate with the law firm of Thomson Rhodes & Cowie, PC.
"I have such appreciation for what the Beaver campus community did and gave to me. And I attribute so much of my life's success to my start from the Beaver campus."

—Scott Cunningham , Penn State Beaver 2002 Outstanding Alumnus